All three performers of the Fierce Faith Music Worship Fest on June 19 asked the question: Are you ready to worship? The answer was a resounding "yes" from the crowd.
Hundreds upon hundreds of concertgoers and worshipers not only shouted their response, they showed it by coming to the inaugural Christian music festival in droves. They didn't have to skip church to do it. They carried out their Father's Day festivities beforehand. They even withstood the heat.
It was a glorious afternoon for organizers Nick and Kristi Cummins, who feel blessed and maybe even a bit overwhelmed to have experienced such a welcoming crowd response the first year of the festival. Kristi recalled seeing guests line up at the gate well before the first band walked on stage.
"I remember walking down Second Avenue towards the northwest gate and I saw those people and got really emotional just knowing they're coming and they're that excited to be downtown and to worship on our square," Kristi told Newton News a few days after the festival concluded.
Those who did not seek shade from a nearby tree or the courthouse planted themselves firmly in front of the stage for performers Friday Night Fire, Sean Feucht and Micah Tyler. It was a sight neither Nick nor Kristi had ever seen before, which is exactly what they hoped for.
"It wasn't something that is typically within our area, so we kind of wanted to bring something like to Newton, to Jasper County, to Central Iowa," Kristi said. "It isn't something that is around here, and we want to make it grow in the future. The plan is for the future, at least."
Organizing the event was something of a miracle itself. With only a few months to plan, the Cummins had very little wiggle room to form Fierce Faith Music, secure a lineup of artists and then promote it. The initial announcement of the concert — and its social media pages — were not made until earlier this year.
"There were some pretty serious time constraints leading up to this," Nick said. "It really didn't come to fruition until maybe February or early March before we really started setting the wheels in motion. That didn't leave us a lot of time for things like marketing or getting it out there."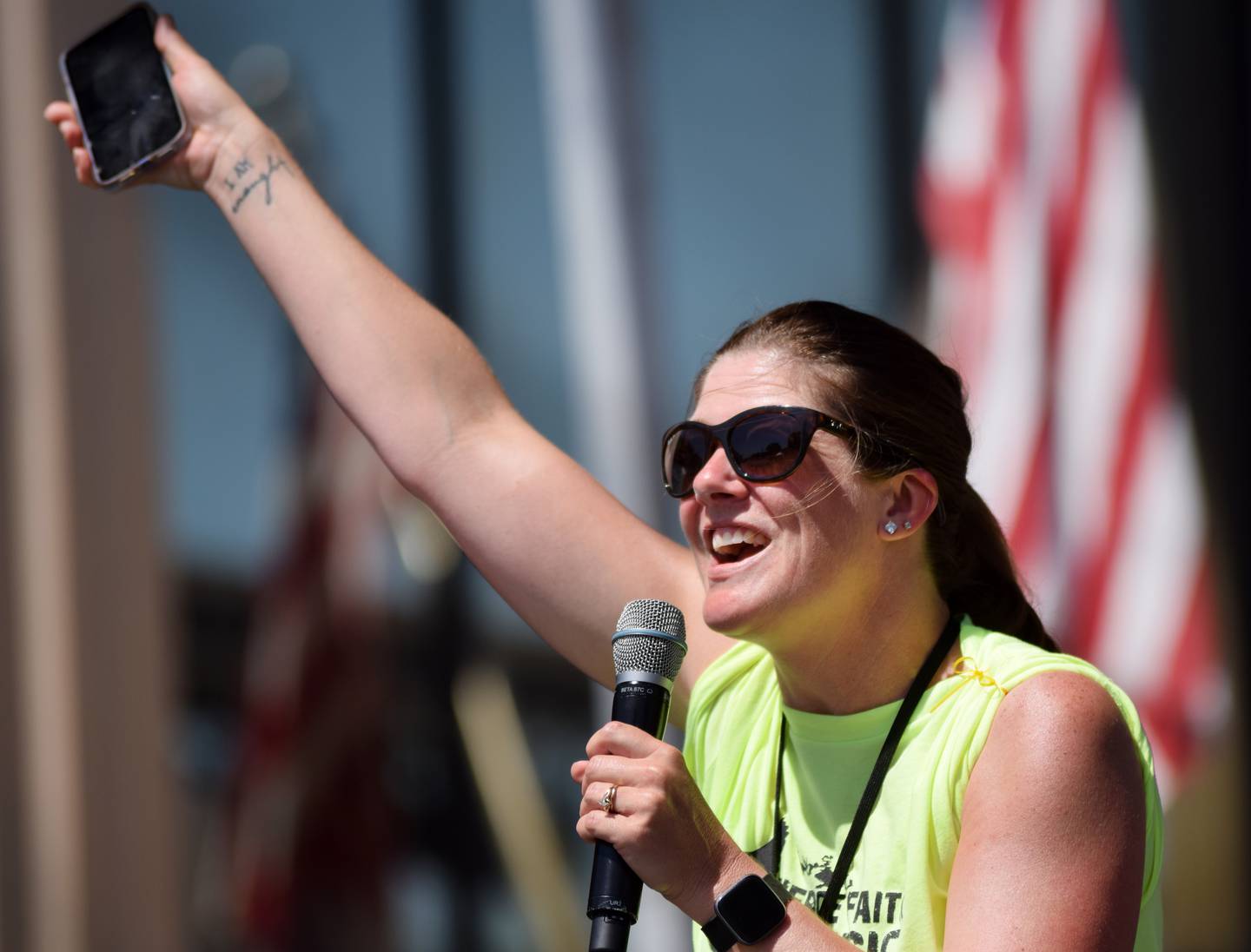 Regardless, the buzz about the Christian music festival got around in local faith communities. Nick credited the power of word-of-mouth for attributing to the successful turnout. Several people wanted to be involved in the festival, as well. In fact, there were so many volunteers the Cummins had to turn people away.
"The outpouring of support is just the nature of the people that attend this kind of event, and they want to see it thrive and they want to see it continue," Nick said. "…It got to the point where people would ask if they could help, but we're like, 'Literally the best thing you could do is just buy a ticket and come.'"
People who weren't on the volunteer list stuck around after the event to help tear down and clear the square, too. Days after the concerts wrapped up, Nick and Kristi continue to see support and get positive comments from the community. Some have even offered to fix the exhausted Cummins a meal or pray for them.
"People are very generous," Kristi said. "And I don't think it's just our community. I think it's just something like this event will bring that out in people."
Looking towards next year, organizers and the board will be even more prepared. Purposeful marketing and reaching out to all kinds of area churches is at the top of the list of things to do. Involving local youth groups would likely benefit the festival, too. Nick and Kristi said they really want to see Fierce Faith Music grow.
"We can make it bigger and bring in bigger names in the future," Kristi said. "I said something on stage on Sunday (like), 'We may have to just do this again!' And I've heard from several people that have said that, 'I can't wait!' And I've got several suggestions on who we need to have for artists."
For a first-year event, that kind feedback encourages the Cummins to not only have another go at it, but to make even bigger. Not bad for a leap of faith.
"A complete leap of faith," Kristi said. "But it was something we do not regret."
Contact Christopher Braunschweig at 641-792-3121 ext. 6560 or cbraunschweig@newtondailynews.com