Iowa cuisine breaks down into two signature food items: the breaded tenderloin and the loose meat sandwich. Dan's Sandwich Shop in Newton has both of the Midwestern dishes on its menu, but it was the loose meat sandwich, also known colloquially as a Maid-Rite, that caught the eye of traveling journalists.
As a result, the Newton restaurant, owned by Michael Brown Sr., was featured in the May 14 edition of The Economist as part of a new, recurring column called "World in a dish." Brown said the two reporters entered the establishment on a whim while writing a story about Newton's $10,000 moving incentive.
The column shows the sentimentality derived from regional foods like the loose meat sandwich. The Maid-Rite may be made with a "scoop of loose, pebbly, well-done meat dug out of a cooking trough and dumped onto a bun," but it is also jam packed with nostalgia for many Iowans — and The Economist notes that.
Brown was pleased with the article and that the journalists found "a real diamond in the rough" when they visited his establishment.
"They wanted to find something to eat that was different and unique," Brown told Newton News. "…So they came back here and ate. They saw our place, peeked in, went to the end of the block, looked around to see what else there was of restaurants and opportunity and then came back here."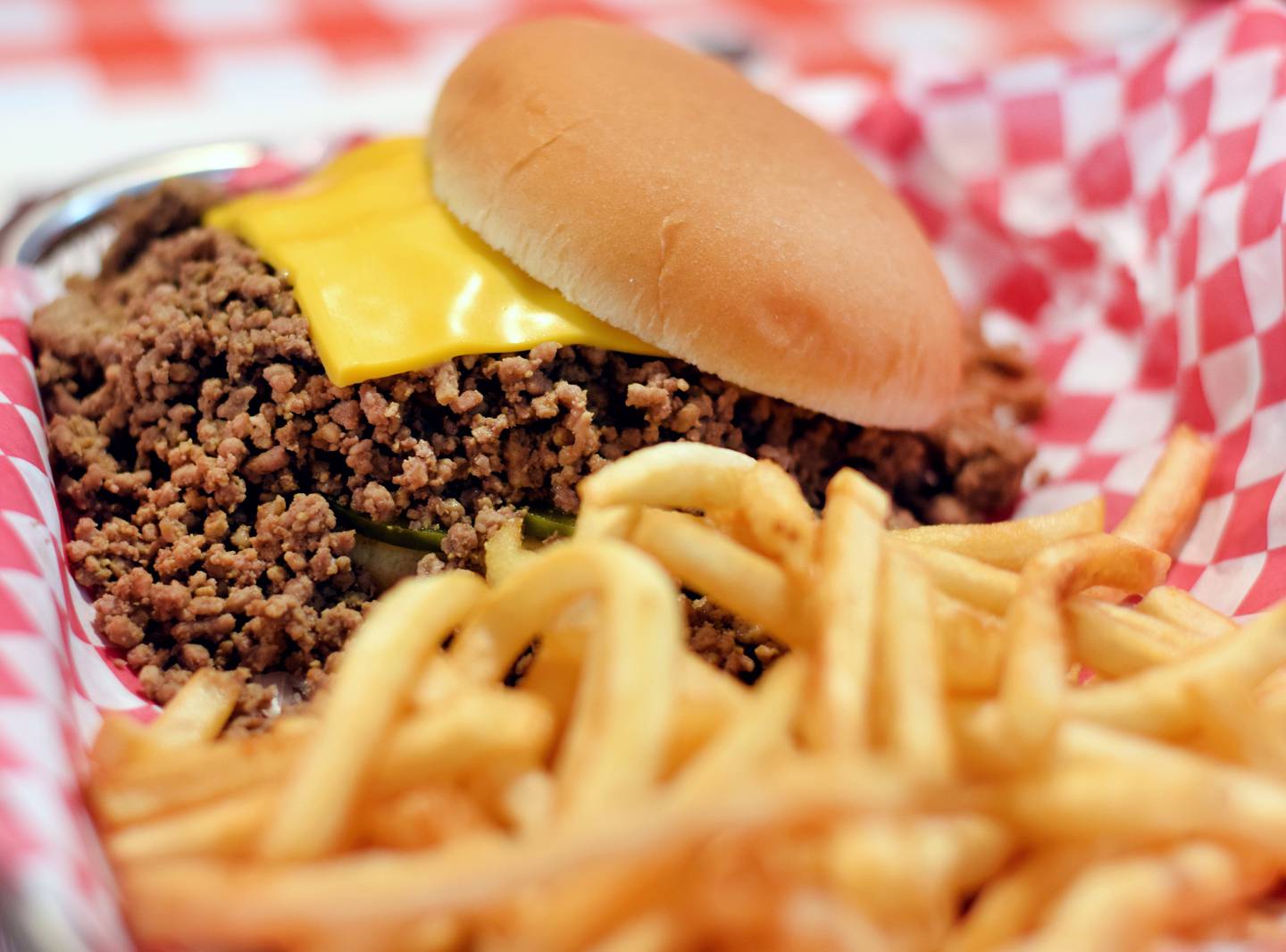 LUNCH WITH A SIDE OF HISTORY
While the journalists enjoyed their meal, Brown filled them in on the history of the establishment. Although he has owned Sandwiches Maid-Rite doing business as Dan's Sandwich Shop since Oct. 1, 2021, the restaurant has been in operation for 96 years. Loose meat sandwiches have remained a staple item on the menu.
However, when Brown took over he wanted to add a number of other options for customers to latch on to.
New additions like the massive breaded tenderloins, homemade chicken salad, potato salad and fresh side salads have satisfied younger palates. As have the seven different styles of Maid-Rites, which are advertised on a giant blackboard inside the 215 First Ave. W. establishment.
Keeping to its Midwestern sensibilities, the restaurant regularly offers daily specials, fresh pies, ice cream and baked goods on the fly. The new menu, the strict standards on quality and quantity and an efficient and friendly staff have boosted business by 30 to 35 percent. Which makes Brown very happy.
Although the original Maid-Rite dates back to the 1920s, the sandwich has cross-generation appeal, Brown said. Customers ages 5 to 90 regularly enjoy the loose meat delicacy. Even when the restaurant has both of Iowa's signature dishes on the menu, Brown said it is the loose meat sandwiches that sell far more often.
Loose meat sandwiches and by extension breaded tenderloin sandwiches are Iowa restaurant staples, Brown said. When folks think of those foods, they (should) think of The Hawkeye State; much like how many people think of Texas or Kansas City when they talk about American barbecue.
"It's a Midwest tradition," he said. "…People asked me numerous times why hasn't this caught on nationwide and that stuff. There's a process to it. And our process isn't as easy as having a frozen hamburger you just pull out of a freezer and throw it on the grill and serve six different ways like ol' fast food joints."
WHAT MAKES NEWTON STAND OUT?
Official Maid-Rite locations are harder to come by these days. Maid-Rite lists 20 Iowa franchisee locations on its website. About 11 other Maid-Rite restaurants are located sporadically in other states throughout the Midwest. However, Newton is not listed among them, including those categorized under Iowa.
Why have so many closed since their inception? Good question. Perhaps the better question is: How has Newton's take stood the test of time?
With Brown taking over from previous owners Dan and Pam Holtkamp, who kept the eatery in business for more than 50 years, the question then becomes: How will Dan's Sandwich Shop continue to persevere? Brown is partly answering that question by using fresh ground beef daily. Keeping strong standards is key.
He also wants to make sure people aren't leaving on empty stomachs. Which is why the "Joey Rite" (a smaller version of the typical Maid-Rite) has more meat on it than it ever has. As do the regular sandwiches, which are always served with a spoon to scoop up what fell out. Always.
Consistency in product is also something Brown emphasizes. The fresh meat is cooked in a steam table in the middle of the restaurant. Per order, cooks scoop a hefty pile of the meat onto a bun of onions, pickles and mustard. Staff constantly tend to the meat to make sure it doesn't dry out.
"I've increased the amount of Maid-Rites we sell, but on top of that where I've gotten all my growth is from my tenderloins, my salads, my new chicken salad croissant sandwiches, my egg salad sandwiches, my daily specials — that's what has brought me all that increase," Brown said. "Variety, freshness, efficiency."
Throw in a helping of "friendly, positive" employees and a dash of fair-priced food, Brown thinks he may have found the recipe for success.
Contact Christopher Braunschweig at 641-792-3121 ext. 6560 or cbraunschweig@newtondailynews.com