U.S. Sen. Chuck Grassley, R- Iowa, said May 13 there are four things that bring quality of life to an individual: family, faith, involvement in one's community and quality of work. "That is what it takes to be happy in America," the senator said during his 99-county tour at VanMaanen Electric, Inc. in Newton.
However, the widespread labor shortages caused by the disruptions of the COVID-19 pandemic is making that fourth step a little challenging.
Grassley offered a few solutions. If Congress could get a bill passed — without "a lot of junk tied to it" — the United States could provide immigrants with jobs. And there are existing federal programs to re-train workers, he added. He also proposed the country reform programs for low-income workers.
Other individuals at VanMaanen Electric's Newton headquarters asked Grassley what he considered to be the most important conversations going on right now in the U.S. Senate that directly affect Iowa or its businesses, either positively or negatively. Grassley could think of three discussions.
He first singled out a bipartisan bill to keep prescription drug prices down, an issue Grassley has repeatedly fought for. Another issue he said affects Iowans is a bill that targets "big tech," specifically Google and Amazon. Small businesses use their platforms to sell their products, and the bill helps level the playing field.
"Amazon puts their products priority over everything else, so this is kind of a bill to eliminate that discrimination against competing products," Grassley said.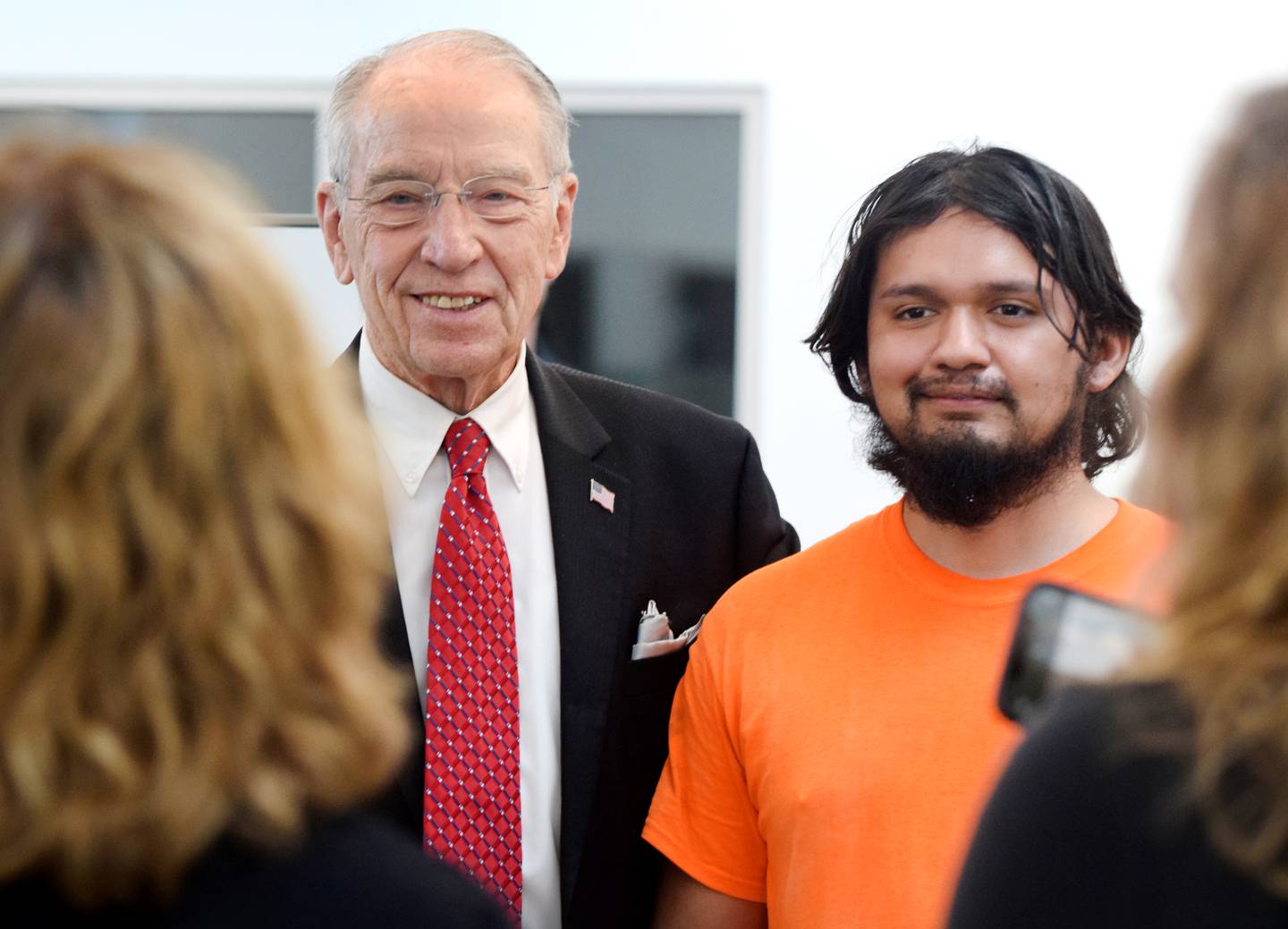 Grassley said the last issue not only affects Iowa, but other states in the Midwest. A bill specifically addresses cattle feeders not being able to get a fair price to market their products "because the four big meatpackers control 85 percent of the market," he said. Grassley did not identify the meatpackers by name.
For the first time in his life, Grassley has a Republican opponent wanting his seat on the U.S. Senate: State Sen. Jim Carlin, of Sioux City.
Grassley was asked by his VanMaanen hosts what he wants his legacy to be. The 88-year-old said he does not worry about his legacy at all. Although he would not consider them his legacy, there are some actions in Congress he is "pretty proud of" like the False Claims Act.
"Which brought back $70 billion in fraudulently taken money from the federal treasury," he said. "…I'm (also) the 'father' of the wind energy tax credit."
Grassley said wind energy is still moving forward, but it more of it will be off-shore. United States have less than 100 off-shore facilities, whereas Europe has 5,553 off-shore wind facilities bringing electricity into Europe, he claimed. America is just getting started in that area, more so near the Atlantic coast.
That doesn't mean Iowa is done building in Iowa, Grassley added, but the larger growth will be near the ocean.
Contact Christopher Braunschweig at 641-792-3121 ext. 6560 or cbraunschweig@newtondailynews.com