MARSHALLTOWN — Camryn Russell opened the 1-meter diving competition with her worst dive of the night.
Her second one though was one of her best and that 44.0 helped Russell recover from a poor start and a strong finish pushed the Baxter sophomore to the podium on Friday during the Iowa High School State Swimming and Diving Championships at the Linda Bloom Natatorium inside the Marshalltown YMCA/YWCA.
Russell hovered around 10th for the first eight dives but her best dive of the night catapulted her into seventh and a strong finish helped her rally to a fifth-place medal and score 422.3 points.
"It feels good. I had a rough few dives at first, but I'm happy I pushed through it to get fifth," Russell said. "Those last three were important. They are some of my harder and riskier dives, but they pay off if I do them well. I just tried to go after it and do as well as I could."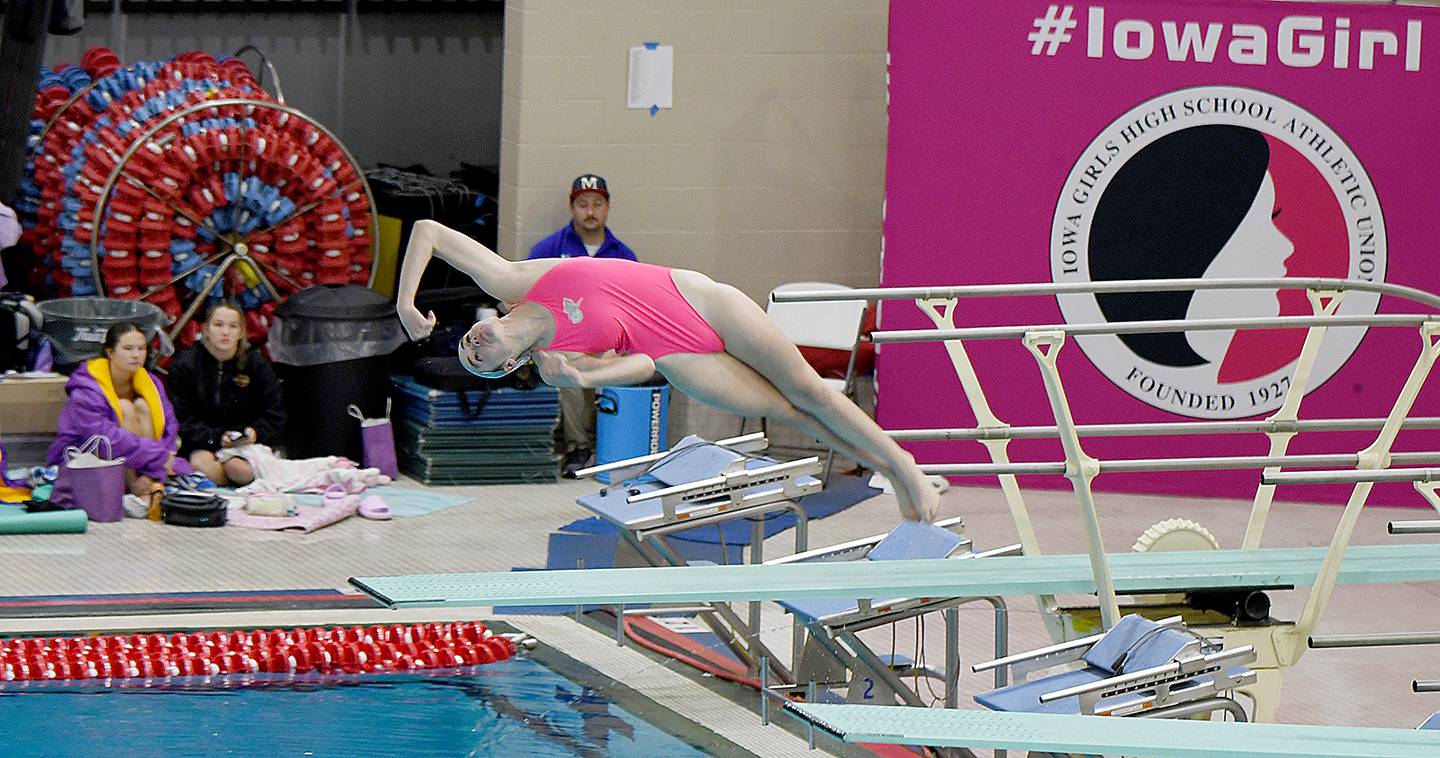 After a 30.0 to open the night, Russell popped off the 44 to get back into the mix. She jumped into ninth with a 39.6 on her third dive and stayed in ninth after a fourth dive of 36.3.
A 39.1 on her fifth dive actually dropped her to 10th and she stayed around that spot following an average of 35.8 over the course of her next three dives.
"She just chipped away and chipped away and chipped away at her deficit with some strong dives on 8-9-10-11," Grinnell/BGM/Baxter diving coach Deidre Freeman Huff said. "We just needed to go after it to hit it. I didn't want her to hold back to not miss it."
The state diving meet starts with 32 divers. The Iowa Girls High School Athletic Union cuts it down to 20 after five dives and then eliminates four more with three dives to go.
Russell's score was 296.38 after eight dives and her 422.3 was good enough to edge out the sixth-place finisher by .25 points. The seventh-place diver scored a 421.65.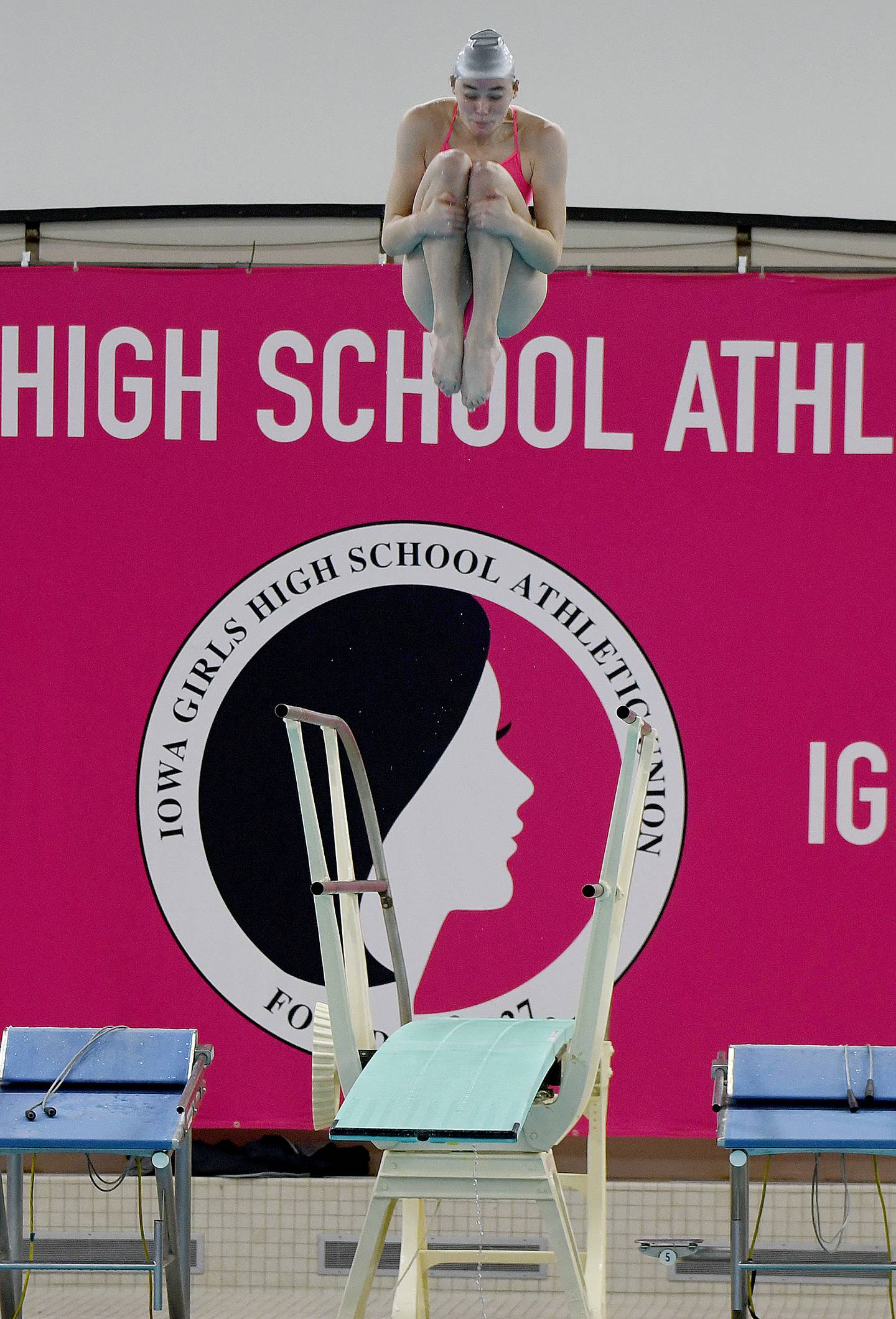 Russell scored more points at state last year (457.4) when she finished seventh. The state champion also scored 34 points last year than this year's winner.
"She did great. I think she dove better last year but also came in without any expectations," Freeman Huff said. "She just wanted to make it to state last year. She came in with goals this year.
"She had a rough stretch during the year and a rough stretch to start today, but she battled and got through it. Having these experiences will help her in the future."
Marshalltown's Abby Tollefson won the state championship with 504.55 points. Dowling Catholic's Sasha Gisi was the runner-up with 458.55 points.
Tollefson, an Iowa State commit who attends West Marshall High School, was 28th as a freshman, fourth as a sophomore and second last season.

Russell has only been diving for two years but those two seasons at Grinnell produced better results than the 2023 state champion's first two seasons.
"She's still new to the sport. We need to work on increasing the difficulty of her dives, which she can do," Freeman Huff said. "The potential is there. Just having the experience from this year will help her."
Russell wasn't too worried about her very first dive. But her frustrations came from knowing she could have done it better.
"I wasn't too upset because it was the first one, and I had a lot more left. It was an easier dive, too, and I usually don't score that much higher on it," Russell said.
Notes: Most of the divers in the state competition on Friday do not wear swim caps. Russell does though. "My hair gets really really tangled. And it takes like 20 minutes to brush if I don't wear the cap," Russell said. "I wear it at practice, too, so I don't want it to mess me up at the meets." ... Competitors had the option of using two different boards for their state dives. Russell chose the board in the middle of the pool every time. "I go sideways on my reverses so I didn't want it to look like I was that far sideways," Russell said. "That was me trying to get a few more points out of those dives." ... The travel from Baxter to practice in Grinnell every night in the fall is not ideal. Russell said she usually gets home at about 9:15 every night on days she practices. "It's worth it. I have a really good coach, facility and teammates at Grinnell so I'm not too mad about the situation," Russell said. ... Divers are required to turn in the orders of all 11 of their dives 30 minutes before the competition begins. Freeman Huff lets Russell choose her order, but it's been a pretty consistent order the past two years. Russell said she likes to start with an inward dive and then add some difficulty along the way. "I leave the order up to her," Freeman Huff said. "There are a lot of rules and details involved. It's kind of complicated, but she chose her list. It's the same list as last year with maybe a few switched around."