Starting setter Macy Lampe rolled her ankle during Newton's volleyball scrimmage against Marshalltown last week.
That forced Emily Wermager backed into a setter role for the Cardinals and she helped the home team sweep their way through the Cardinal Early Bird Invitational on Tuesday during the team's regular-season openers.
Newton downed Saydel, Des Moines Hoover and PCM to claim the team championship for the second straight season.
"We planned on doing well tonight," Wermager said. "There were a couple of times when it wasn't going well, but we got things back on track."
Wermager last played setter as a sophomore. She was moved to the back row last season but as soon as Lampe went down in the scrimmage, she knew she needed to step up.
"As soon as Macy went down I had the realization that it was my time," Wermager said. "It was definitely a little weird at first, and I told the girls I would need all the help I could get. But I am loving every minute of it."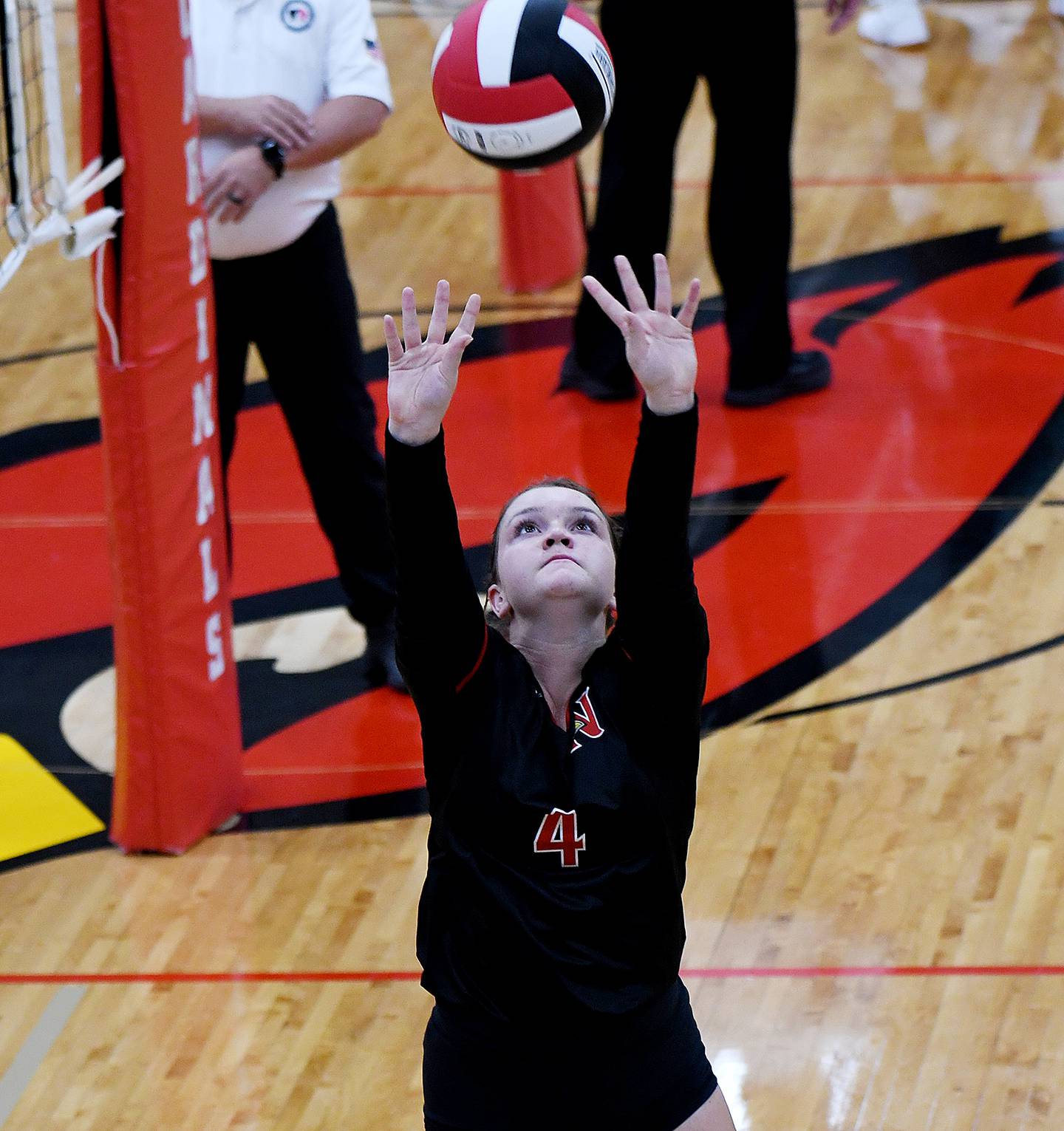 Newton (3-0) opened with a 21-6, 21-10 win over Saydel. Then downed Des Moines Hoover 21-13, 21-8.
PCM began with a 21-10, 21-13 win over Hoover. Saydel rallied for an 11-21, 21-14, 15-13 victory over the Mustangs and then PCM fell to Newton in the finale of the round-robin tournament.
"I was really impressed with them. I thought they played strong," PCM head volleyball coach Sarah De Vries said. "There were no big holes that I saw. They were strong at the net and strong in the back row. We just got outplayed a few too many times."
The Eagles (2-1) were second overall and Hoover (0-3) finished fourth.
"They played like I expected them to play," Newton volleyball coach Heidi Woollums said. "They were a lot more relaxed than they were last year."
In the Jasper County matchup between the Cardinals and Mustangs (1-2), Newton pulled away from a tight first set when Chloe Rorabaugh and Kadance Ahn had back-to-back kills and then Delaney Woollums sandwiched a pair of kills between a Wermager ace.
Newton led 11-5 at that point, but Riley Johannes' ace made it 11-7. Her long service run included another ace that gave the Mustangs a 12-11 advantage.
The two teams drew even at 11, 12, 14, 15 and 16 before the Cardinals scored the final five points to win the opening set.
"Newton was a little bit bigger at the net than we are so just working on being able to set up the blocks sufficiently and cover better in the back row are a few things we need to work on," De Vries said.
Ahn was great the entire night but was spectacular against PCM. In the second set, she put down four early kills to keep the Cardinals even at 5-all.
It stayed tied at 7-all, but a Rorabaugh kill and back-to-back kills by Ahn pushed their lead to 12-8. PCM trailed 9-8 at one point, but Newton scored seven straight to grab an insurmountable lead.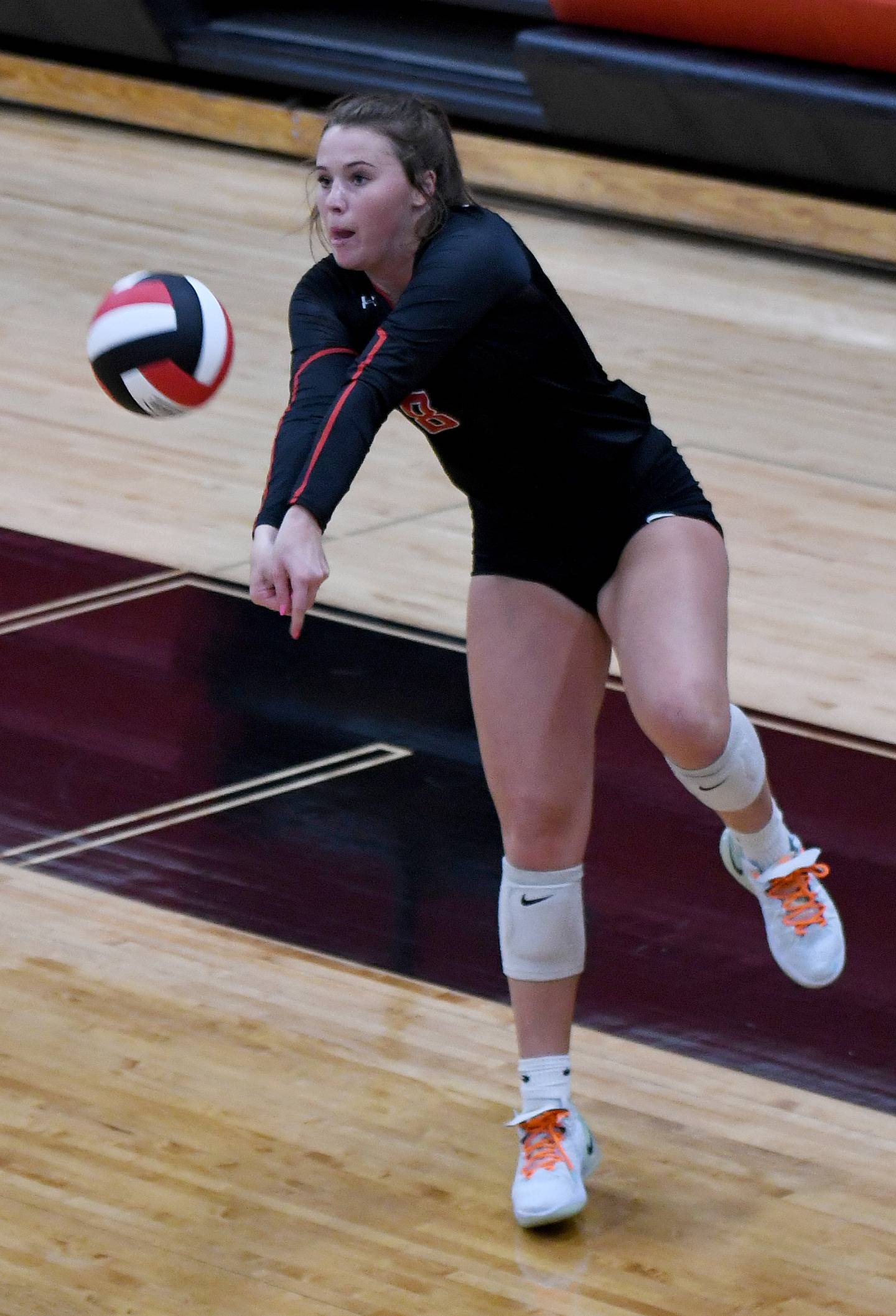 Ahn's kills gave Newton leads of 16-8, 17-10 and 19-11 and her ace pushed it 20-11. Hailey Sumpter's tip ended the match following an ace by Johannes.
"I was on in that last one more than the first two," Ahn said. "It took me a while to get going and once I started to get it rolling, they decided to get it out to me more."
Ahn finished with 16 kills and four digs in the win, while Wermager had 20 assists.
"Kadance was phenomenal. She did everything for us in that PCM game," Coach Woollums said. "We needed to go to her until they stopped her."
Woollums finished with four kills and six digs, Audrey Rausch tallied eight digs, Chloe Swank registered six digs and Sumpter chipped in two kills and two blocks. Rorabaugh put down two kills.
The Cardinals had three aces and were 37-of-40 in serves.
Unofficially, Johannes led the Mustangs with five aces, 11 digs and three kills. Addison Steenhoek put down a team-best five kills.
De Vries thought her team defended Ahn well for the most part.
"We tried to take away her line shot the best we could. When she hits it down the line she can put it away pretty hard," De Vries said. "We wanted her to go cross court, which helps us get to it easier.
"We got a few blocks on her and then she started to tip it. We saw a lot of that. I was proud of the girls for adjusting."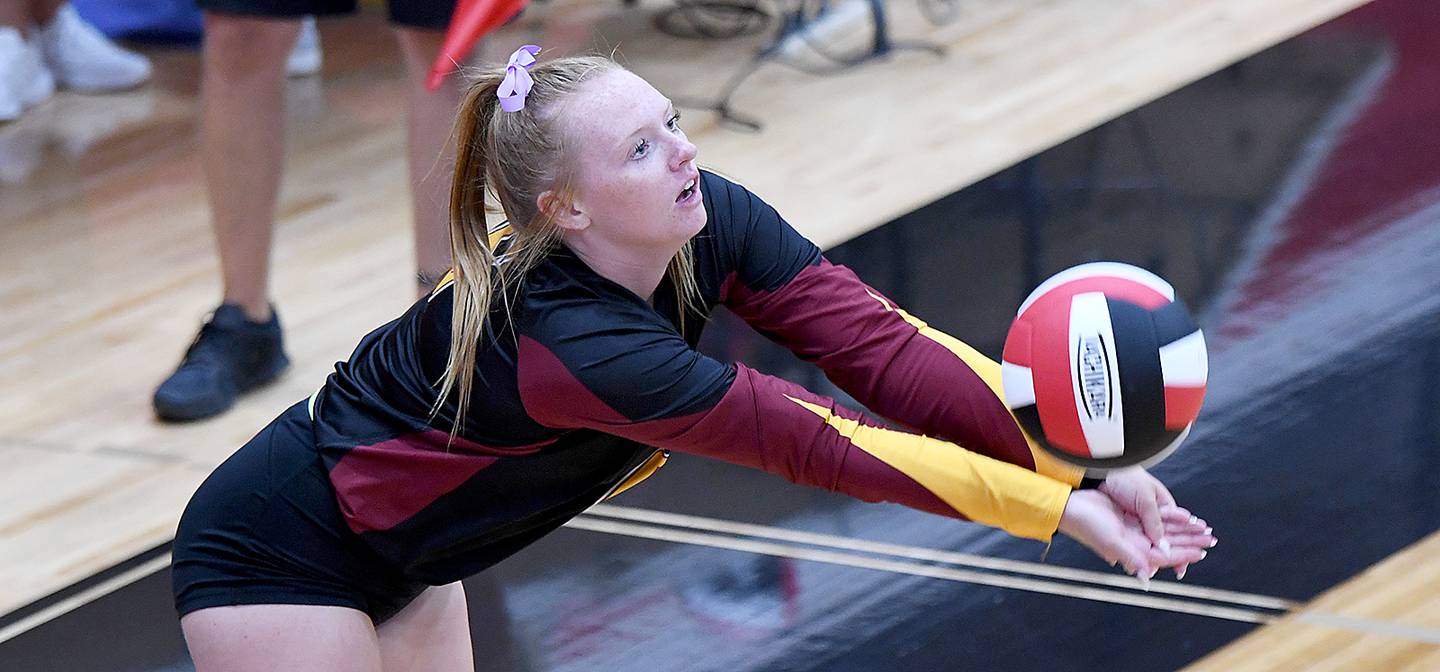 The Cardinals opened the tournament with a dominating win over Saydel.
Newton jumped out to a 9-1 lead behind three aces from Swank, two kills from Ahn and an ace and a kill from Rausch.
Ahn served up five aces in the win and all five came in the same service run that put the Cardinals in front 17-2.
They finished off the set with kills from Sumpter, Woollums and Rorabaugh.
In the second set, Newton pulled away after back-to-back aces by Wermager and kills from Delaney Woollums, Sumpter and Rausch. Delaney Woollums had another kill later and Ahn tallied a pair of blasts to finish off the two-set win.
"The Marshalltown scrimmage was rough so it was good to play well tonight and get a confidence booster," Ahn said. "Our communication needs to be better. And we need to work on the little stuff. I think we do well with hitting and digging but need to improve the small stuff."
Ahn registered eight kills, four digs and five aces in the win over the Eagles. Delaney Woollums tallied four kills and five digs, Sumpter added three kills, three blocks and five digs and Rausch chipped in two kills, five digs and two aces.
Swank finished with a team-best 10 digs and three aces and Rorabaugh had two digs.
The Cardinals were 39-of-40 in serves and had 12 aces.
Wermager dished out 17 assists, registered two blocks, had three digs and served up two aces.
"She's always been prepared. She wants to set and wants to be in that position," Coach Woollums said. "It's taken some work and I put her in a tough spot without many reps, but she stepped in and got things done. I am proud of her."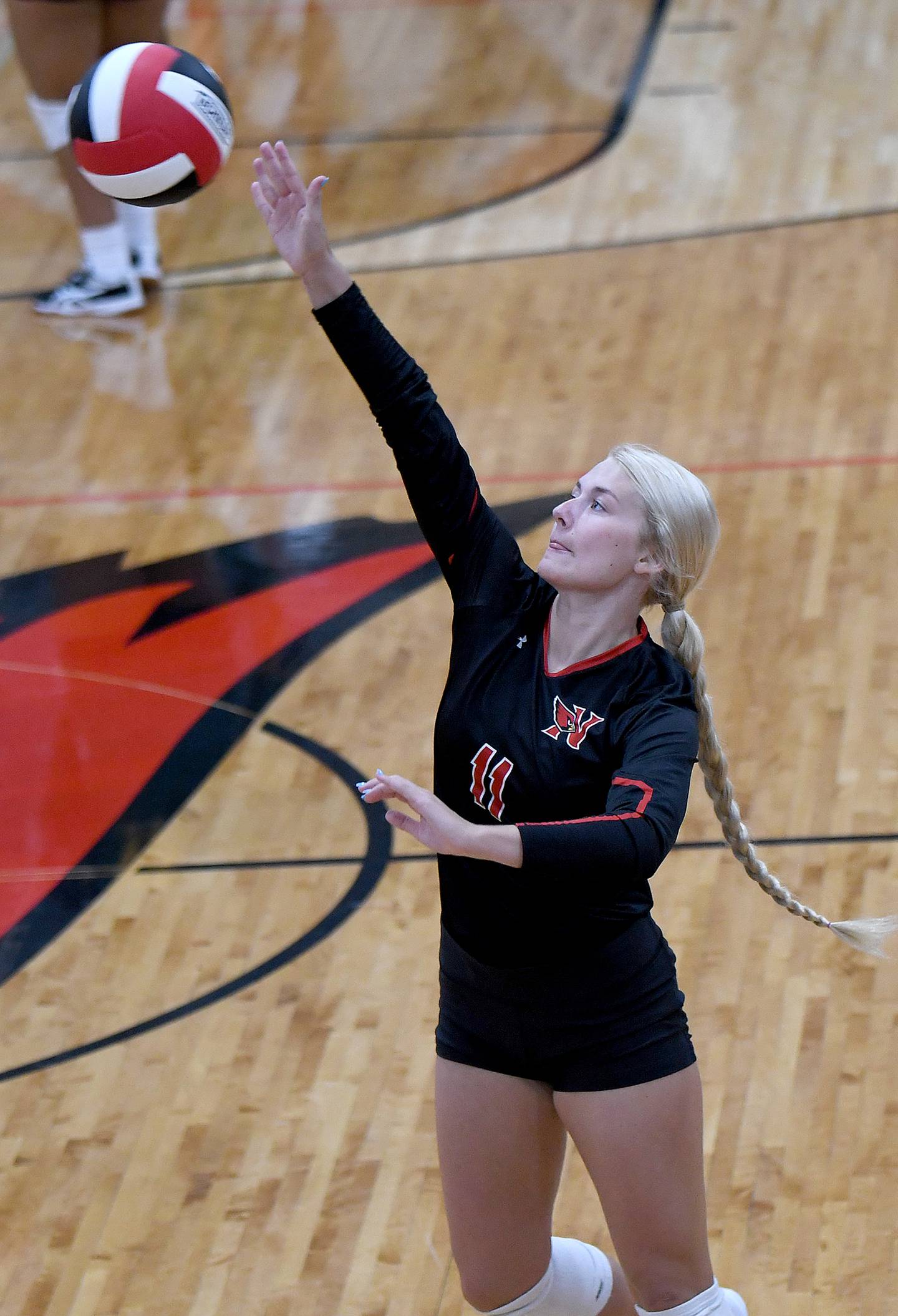 Newton had mostly strong starts and solid finishes but did run into trouble in the middle of a few sets.
Against Des Moines Hoover, the Cardinals were tied at 13-all with the Huskies in the first set but rolled off eight straight to win the game. The second set went much smoother.
"There were times in there when I held my breath a little bit, but I always knew they'd get the job done," Coach Woollums said. "Those teams were doing unconventional things and sometimes the ball just falls. It can fluster you a bit when a hitter hits it one way and the ball goes another direction. We were able to recover and regain our composure though. We took control after that mostly."
In the win over Hoover, Wermager had 14 assists and Ahn added nine kills and three digs.
Woollums tallied two kills, three digs and six aces, Swank registered four digs and five aces, Rausch had three digs, Sumpter put down two kills and Rorabaugh added two blocks.
The Cardinals had 13 aces and were 36-of-39 in serves.
Coach Woollums said her team missed too many serves at times and let their competition get on too many runs.
"I was proud of almost everything we did. We let them have a few runs and that's something we can clean up," Coach Woollums said. "If they get a couple points in a row we have to find a way to stop those. You have to focus in and get the ball to someone who can stop the run."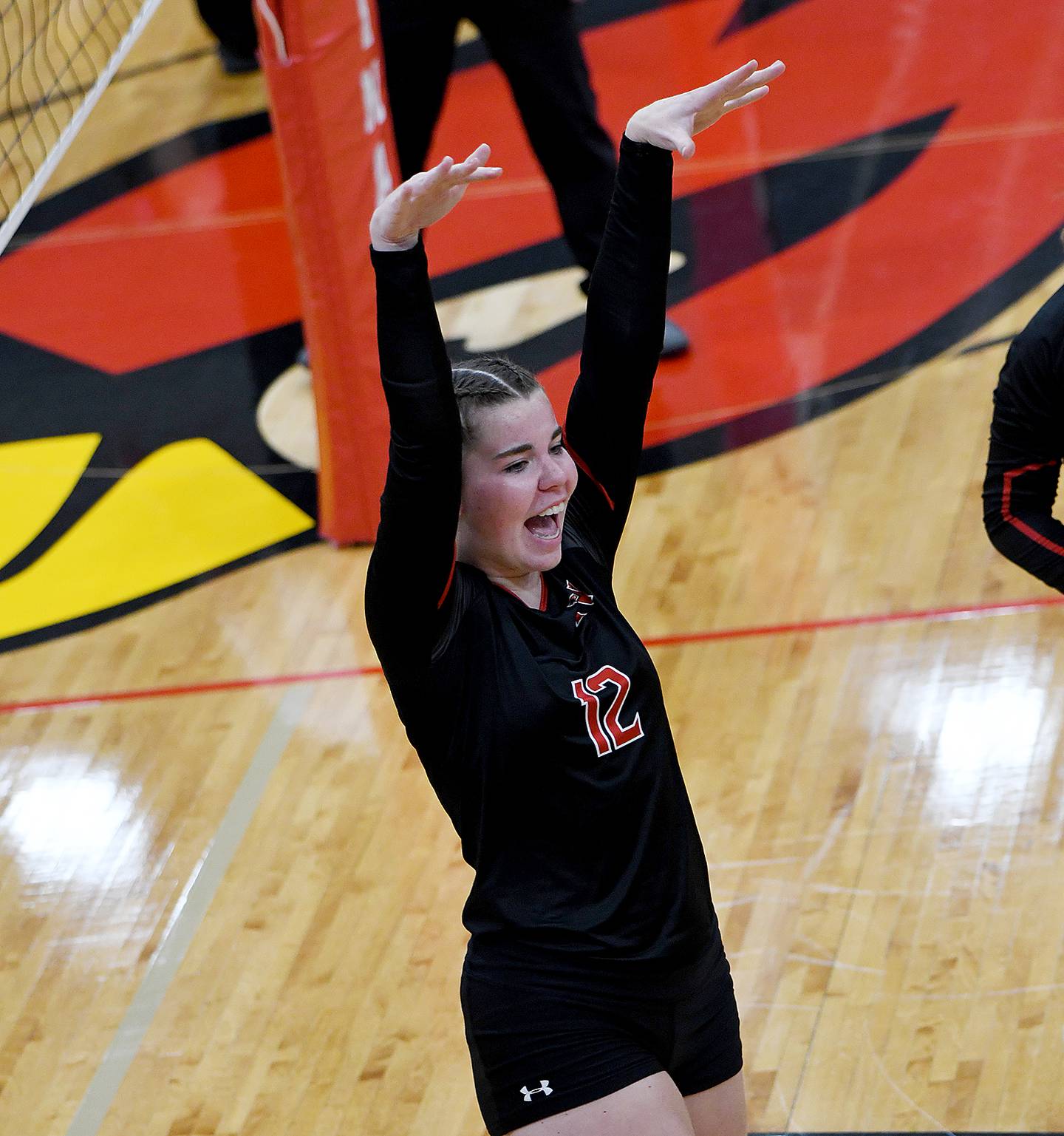 PCM handled Saydel fairly well in the opening set but lost its way in the final two games.
In the opener, Joslin Briles and Reese Palm each had a pair of kills to give the Mustangs a 4-1 advantage.
Elle Davis and Steenhoek had a kill apiece and Johannes served up an ace to push the lead to 11-5. Davis and Steenhoek added kills later that extended the advantage to 14-7.
PCM finished the opening-set win after an ace by Palm and two kills by Johannes.
Saydel's Paige Rummans flipped the match with her serve in the second set. Rummans served up four aces during a service run that gave the Eagles a 9-2 lead.
Johannes tried to rally her team with a block and back-to-back kills, but Saydel's lead grew to 17-11.
Steenhoek had a kill and an ace to close the gap, but the Eagles scored four of the next five points to even the match.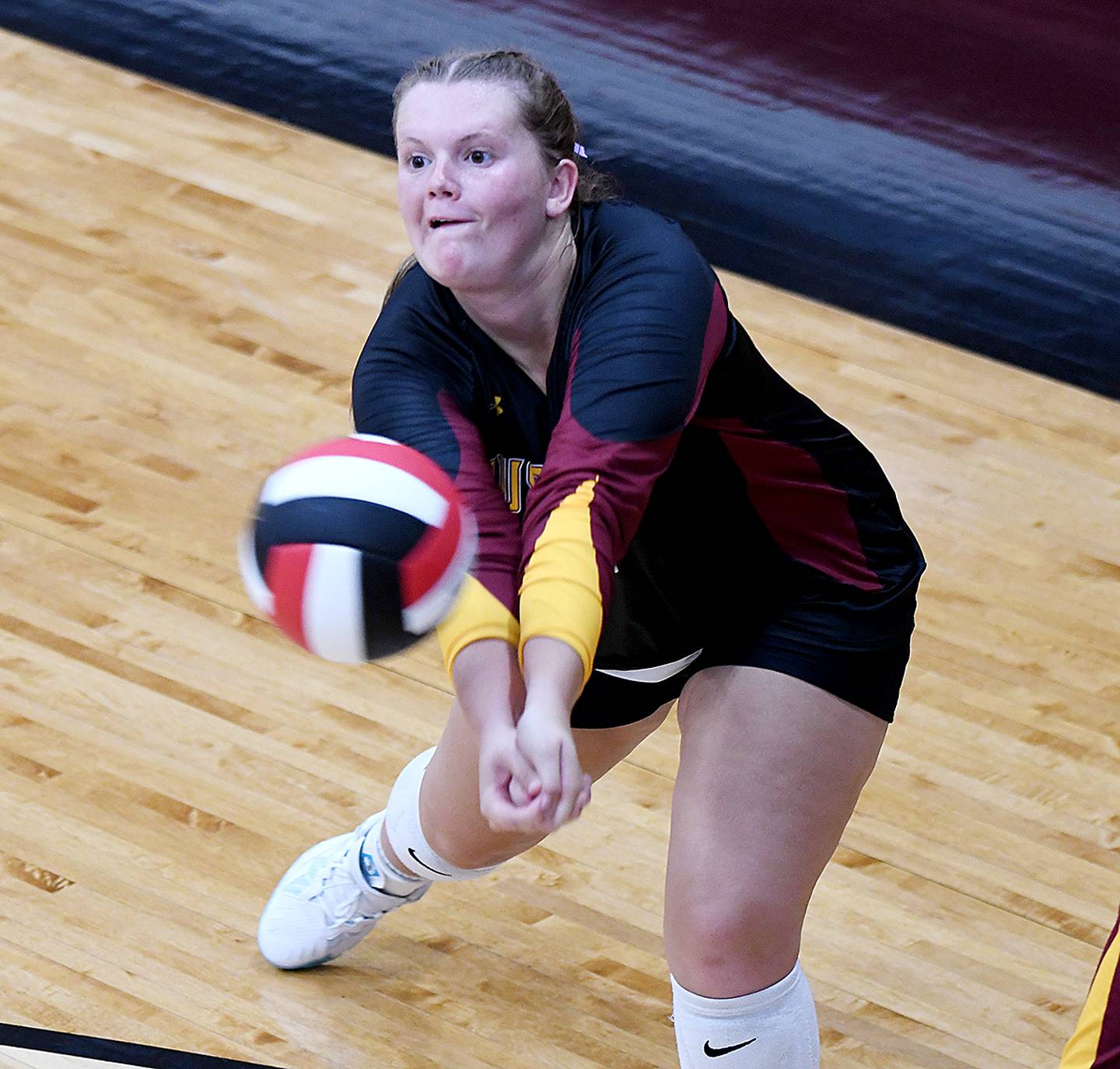 "They had a server who flipped the match. We have to stay on our toes during those kind of service runs," De Vries said. "I thought our serve receive was really good other than that stretch in the Saydel match."
In the winner-take-all third set, Saydel jumped out to a 6-3 lead and held on. Johannes' kill made it 6-5 and her ace cut the lead to 8-7, but a 3-0 stretch by Saydel extended its margin to 12-8.
The Mustangs rallied late, but it was not enough. Steenhoek had a kill and a block to make it 13-10 and then a back-row bump by Skylar Burns hit the floor on the other side.
Palm's back-to-back aces trimmed the deficit to 14-13, but Saydel won it on the next point.
"We put ourselves in a position that was hard to come back from," De Vries said. "This was a tough loss because we struggled with serve receive in the second and third games and couldn't get our offense running.
"We need to be more aggressive from the serve box, too. We missed too many serves. We don't want to hand over any points. I think we also need to play smarter at the net. A kill is a kill. It doesn't always have to be drilled to the floor. We just need to find the open spots."
Unofficially, Sidney Shaver had 13 assists against Saydel. Steenhoek put down five kills, RaeAnn Duinink tallied 11 digs and Johannes and Davis each had four kills.
Against Hoover, Briles had three kills and Palm and Steenhoek each finished with four aces.
Notes: Coach Woollums said Lampe spent a week in a boot but is expected to be back next week. She was not in a boot for the first day on Tuesday. … De Vries said the starting positions are set, but she wants to find a way to get other players into the match. "We have a deep bench," De Vries said. "There's a lot of skill on the bench, and we will continue to try to get other girls in there."