DES MOINES — Owen Norrish looked lost at the plate during his first two swings of an at-bat in the fourth inning on Tuesday.
But advice from one of his coaches changed the entire complexion of the Hawks' non-conference game against Class 2A Albia.
Norrish delivered an RBI single that made it 2-0 and that score held up against the Blue Demons at Principal Park.
"Coach told me to move up in the box so I did that. I also moved closer to the lines so I was crowding the plate and I choked up on the bat," Norrish said. "I was able to make something work."
Norrish did not get on base at all in last year's Principal Park win. He was a perfect 3-for-3 in plate appearances against Albia as he drew walks on his first and last at-bats.
L-S baseball coach Scott Alberts was impressed by the way Norrish adjusted in the middle of his at-bat.
"We always say the average teams make adjustments throughout the year, the good teams adjust from game to game and the great teams make adjustments every at-bat," Alberts said. "We are not there yet, but we have kids who are doing it. For us to see guys making adjustments in the middle of an at-bat, that's a good thing. We are heading in the right direction."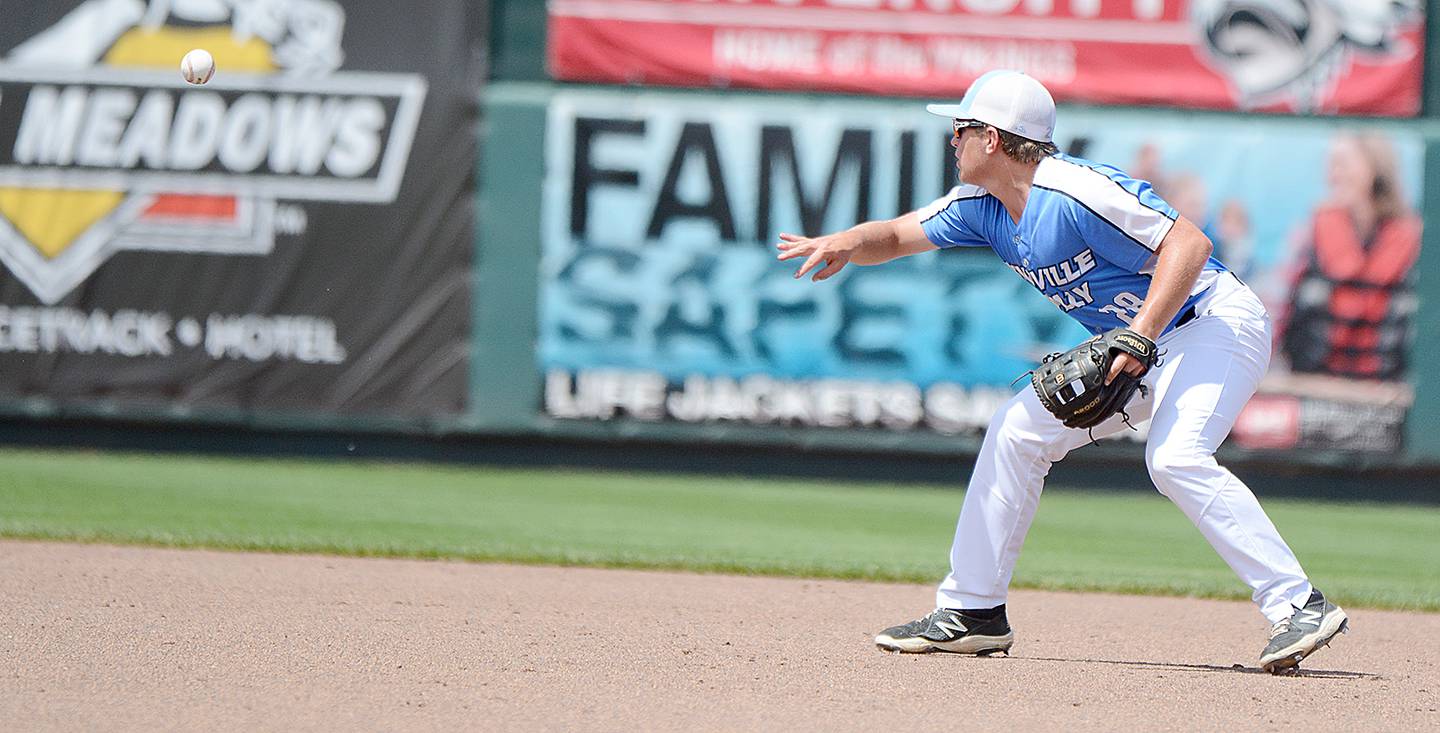 The Hawks are now 9-1 this summer. The 2-0 win over Albia was the team's fifth shutout of the season and the team's earned run average dropped to 1.66, which ranks fifth in 1A.
Lucas Sieck was on the Principal Park mound for the second straight season. And he earned another win at the minor league ballpark.
This time, Sieck went the distance, allowed no earned runs on three hits and finished with seven strikeouts, one walk and one hit batter. He needed just 89 pitches to get through seven innings.
"The fastball felt good today. I was able to locate my pitches and I had a great defense behind me," Sieck said. "They made plays and were fantastic all game."
The defense behind Sieck committed zero errors. The Hawks have just 13 errors in 10 games, which ranks in the top 10 in 1A.
Sieck had little trouble with Albia's lineup but did get help from the defense in the third when they turned a 4-6-3 double play.
Alberts was forced to pull Sieck before the final at-bat in last year's Principal Park game because of the pitch count rules for a freshman.
Sieck improved to 5-0 on the season and his ERA is still at 0.00. His five wins rank tied for first in 1A.
"He's been solid all year. He was in control of his pitches from the start of the game to the end," Alberts said. "We usually start a game with a relief pitcher ready to go. But I'm not even sure our relief pitcher got up today. Lucas was in command all day long and really kept batters off balance.
"We have starting pitchers and if they can go the entire way, I will give them the game."
Offensively, the Hawks were limited to just two hits. But Norrish and Conner Maston both walked twice. And L-S stole five bases to put runners into scoring position.
That came into play in the Hawks' two-run fourth inning. Maston began the frame with a walk and then he stole second base. Bryce Richards reached on an error and stole second.
Caleb Rea put the visitors on the scoreboard in front with a sacrifice fly to left field. Norrish's RBI single with a 2-2 count made it 2-0.
"I normally can go pretty deep in the count. I'd rather just hit the first pitch, but if it's not a strike there's nothing wrong with going deep in counts to try use a few pitches," Norrish said. "Last year, when I played here, I didn't get on base at all so I was glad to rebound today. It's nice to win here. It's a special feeling."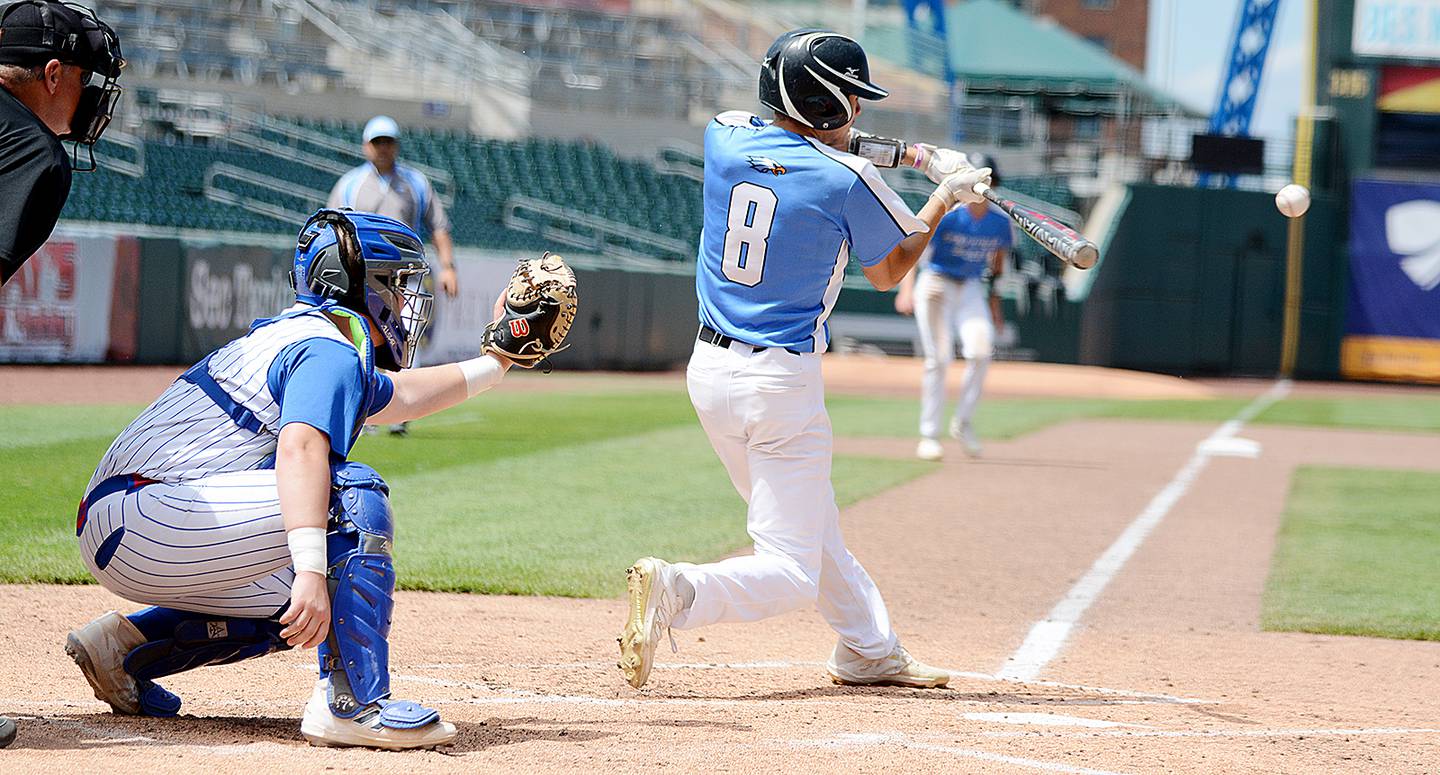 Alberts said any time his team can take a base, they likely will try and usually get more than one.
"Our defense is our signature right now and team speed is towards the top, too," Alberts said. "If you give us a base, we are probably going to take two. We have good team speed.
"Any time you can move up 90 feet and put yourself in scoring position, I think it's a game changer."
The Hawks were retired in order in the first and seventh innings. Norrish drew a walk in the second, Braden Alberts singled in the third, Carson Maston reached on an error in the fourth and Noun Harder reached on an error in the fifth.
Conner Maston also walked in the fifth and Norrish drew a walk in the sixth. The Hawks stranded six runners on base in all.
Sieck allowed a two-out single in the first, a lead-off walk in the second and singles in the fifth and sixth.
He retired the Blue Demons (3-7) in order in four of the seven innings. The double play helped that in the third and Sieck got a pick off at first base in the second.
"You dream of playing in parks like this when your a young kid. This was awesome. I had a lot of fun today," Sieck said.
Norris finished with one hit, one RBI and two walks to lead the offense. Conner Maston walked twice, stole one base and scored one run, Richards scored one run and stole one base and Rea recorded an RBI sacrifice fly.
Alberts had the other hit, Noun Harder stole two bases and CJ Nikkel swiped one bag.
The Hawks have won seven straight games and the last three wins were by shutout.
"The next couple of weeks will tell a big story about where the rest of the season will go. We are heading in the right direction though," Alberts said. "The next step for us is to drive the baseball better. We are getting the bat on the ball, but we just aren't hitting gaps and getting it driven the way we need to. We'll keep working on that."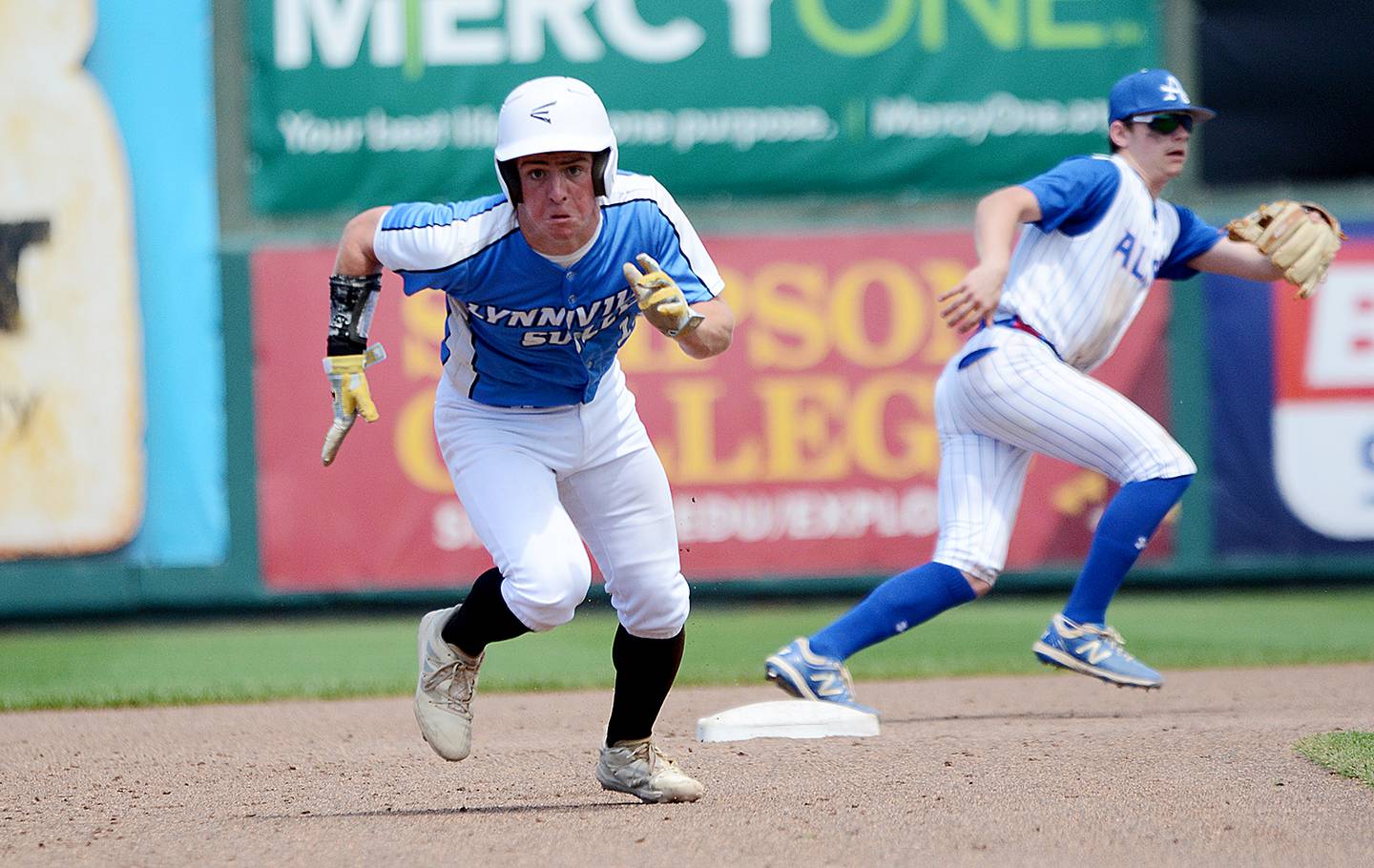 Lynnville-Sully 3, Belle Plaine 0
SULLY — Conner Maston struck out a career-high 15 and lowered his ERA to 1.17 with a strong performance against Belle Plaine on Monday during South Iowa Cedar League play.
The Hawks scored one run in the first, third and sixth innings and kept their opponent off the scoreboard for the third straight game and downed the Plainsmen 3-0.
Conner Maston is now 3-0 on the season after surrendering no earned runs on one hit with one walk. His 41 strikeouts rank ninth in 1A.
Noun Harder had two of the team's four hits, scored one run and stole one base. Rea finished with one hit, one RBI and one steal, Richards collected one hit and stole one base and Lannon Montgomery, Norrish and Alberts all walked once.
Conner Maston had one RBI, Nikkel scored one run and stole one base and Terran Gosselink registered one steal.
Keaton Parrott struck out 11 Hawks over five innings but took the loss for the Plainsmen (2-6 overall, 2-5 in the conference). Rhett Parrott had Belle Plaine's lone hit.
The Hawks (9-1, 6-0) out-hit the Plainsmen 4-1 and Belle Plaine committed four errors.