OSKALOOSA — A slow start didn't hinder Newton's football team on Friday night.
Because once the Cardinals got going, they soared to a road win over rival Oskaloosa and spoiled the Indians' Homecoming.
Newton rushed for 324 yards, Zay Arguello accounted for five touchdowns and the Cardinals got back on the winning track with a 50-26 win over the Indians at Lacey Sports Complex during Class 4A District 4 action.
"We were able to execute pretty well in our running game, and our guys didn't try to force too much," Newton football coach Andy Swedenhjelm said. "They made the right read most of the time and when we are able to execute at a high level our kids can do some really great things."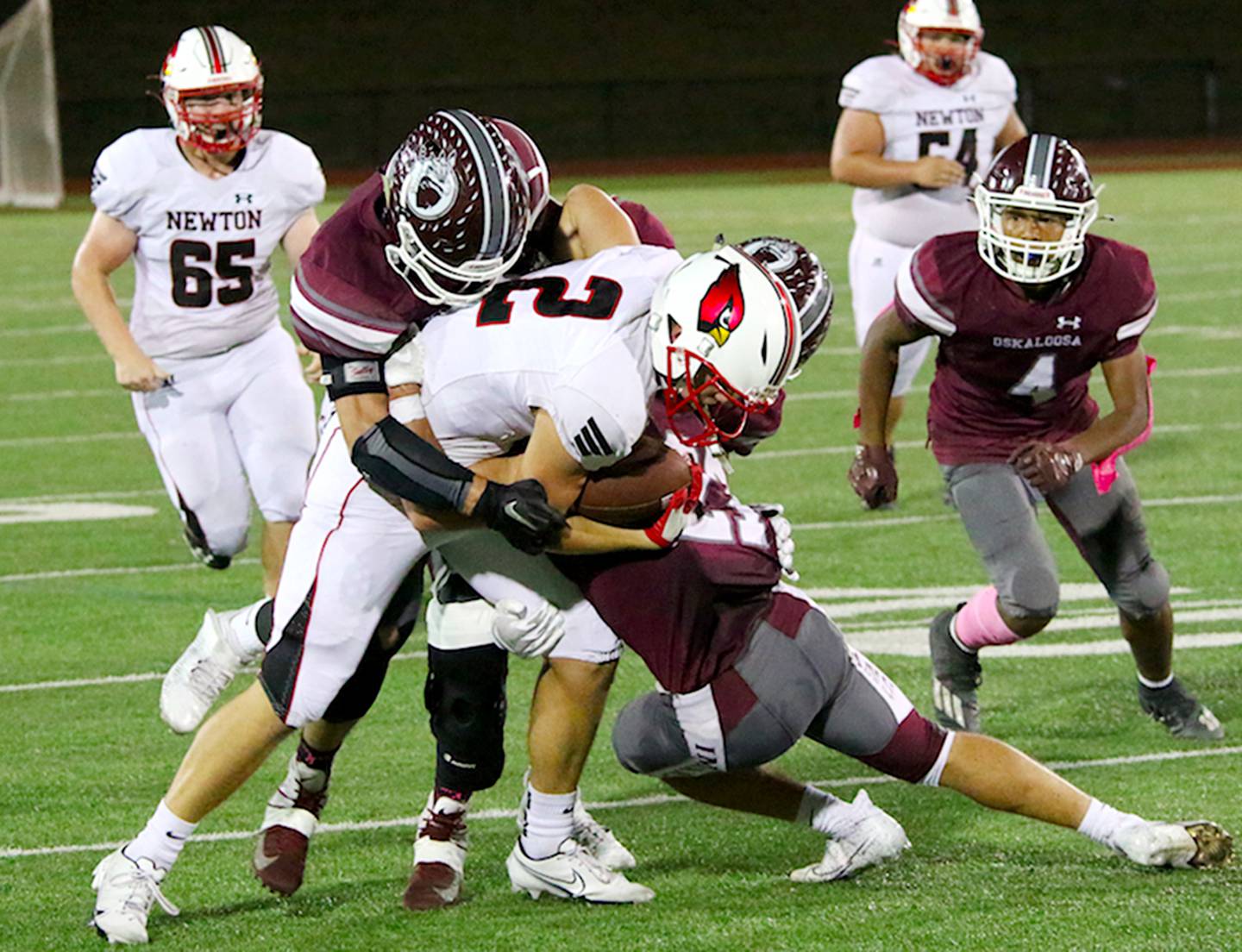 Oskaloosa started the game with a 77-yard pick-six and had a 98-yard kickoff return touchdown in the second quarter, but Newton scored 28 points in the second to grab a lead it wouldn't relinquish.
Arguello's first and second touchdown passes of the night went to Keith Moko. The first TD strike went for 13 yards, tying the game at 7-all after one.
"Even though they had some big plays in there, sometimes that can be a double-edged sword," Swedenhjelm said. "We ran 51 plays to their 17 in the first half, which allowed us to wear on them a bit."
In the second, Moko hauled in an 8-yard TD pass to give the Cardinals the lead for good.
Arguello finished 9-of-21 through the air for 185 yards and three scores. Moko grabbed three passes for 48 yards and gained 22 yards on the ground on three carries.
Cody Klein scored on a 29-yard run midway through the second and added a 3-yard TD run in the closing seconds of the first half.
Klein had the best game of his young varsity career, finishing with a career-high 146 rushing yards and two scores on 22 carries.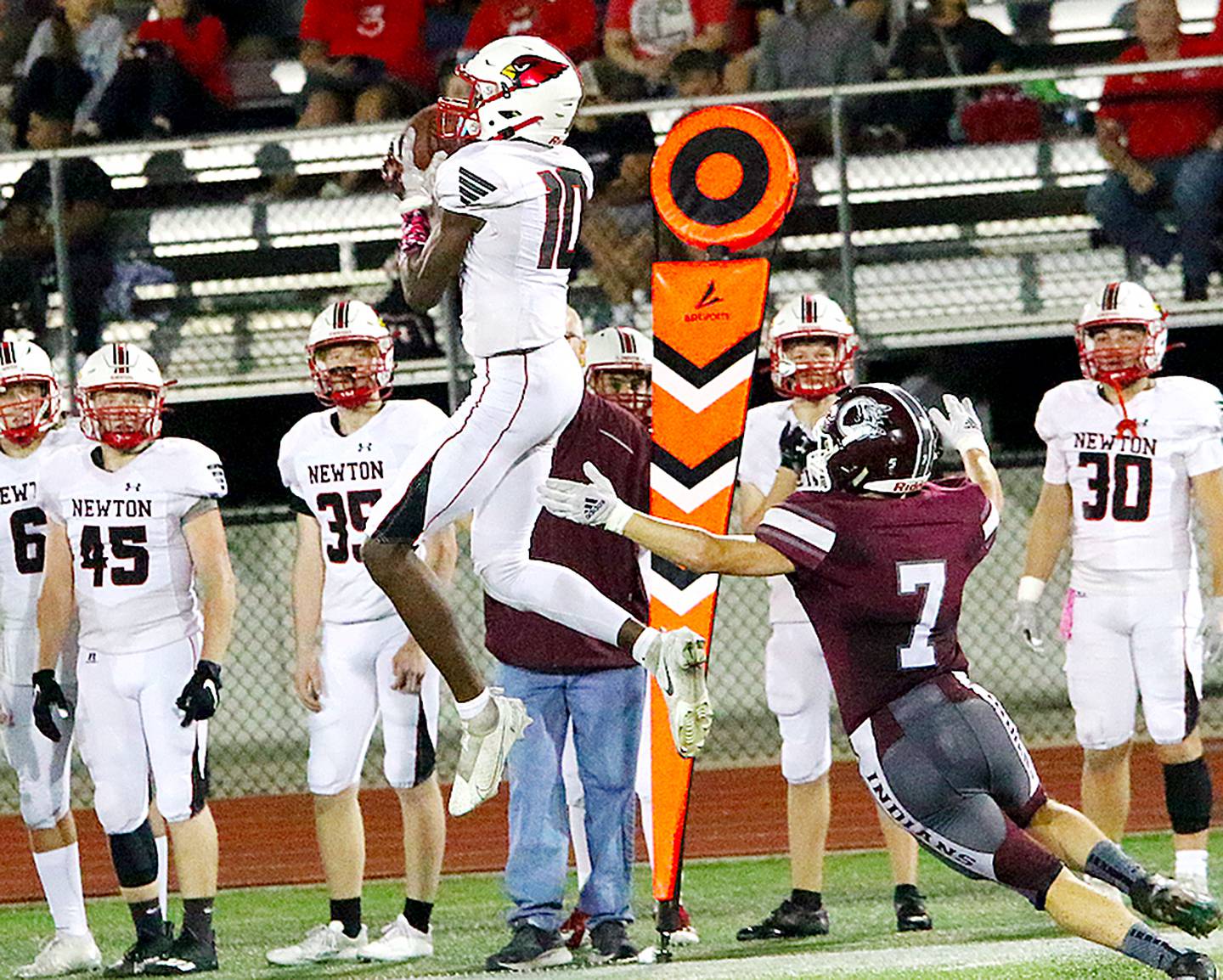 After Oskaloosa's 98-yard kickoff return, Newton (5-1 overall, 1-1 in the district) responded with a 49-yard TD pass from Arguello to Brody Bauer. Klein's short TD run with 24 seconds left in the half gave the Cardinals a 35-13 lead at the break.
"The second quarter was kind of crazy," Swedenhjelm said. "We were feeling good about some of the matchups we had there, and we ran a ton of plays. We wanted to be a little aggressive during that second quarter and were able to hit on some big shots down the field."
The only points of the third and the first points of the fourth came from Oskaloosa (4-2, 0-2) as the Indians got back-to-back touchdown passes from Keaton Flaherty to close the gap to 35-26.
Arguello answered the scores with a pair of long TD runs. His first went for 26 yards and then he closed out the win with a 32-yard scoring run with 6:36 to go in the game.
Arguello rushed it 22 times for 152 yards and two scores. The senior quarterback now has 17 total touchdowns this fall.
Newton held a 23-11 advantage in first downs and punted just once. The Cardinals' had nearly an 11-minute surplus in time of possession.
The Cardinal defense held Oskaloosa to just 56 rushing yards and had three interceptions. Newton out-gained the Indians 508-223 in total yards.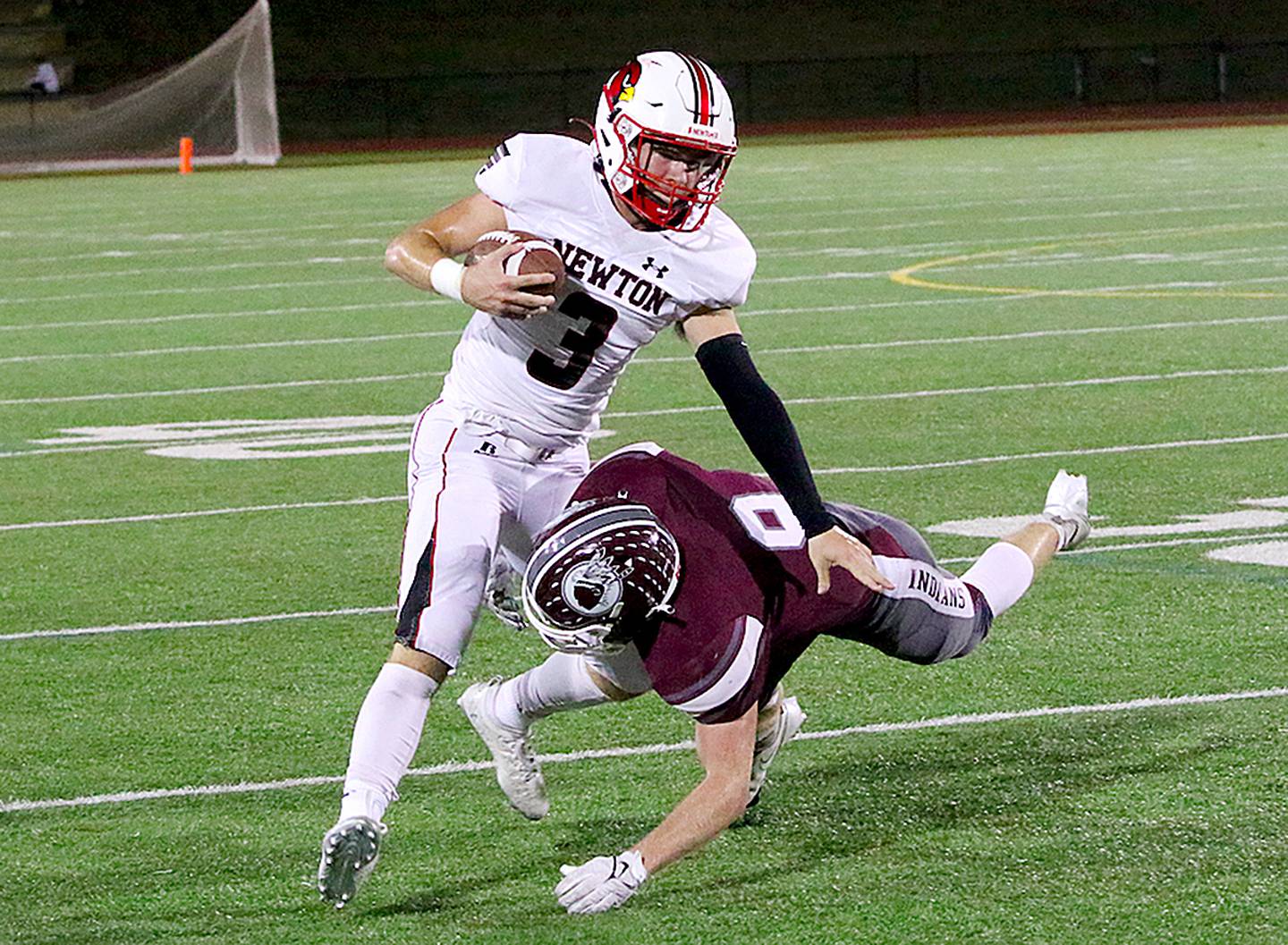 Brendon West led the defense with 6 1/2 tackles and one interception. He now has a team-high 36 tackles for the season.
"Brendon West is a dog," Swedenhjelm said. "He gets after it and plays extremely hard. He makes a lot of really good effort plays, and it shows up in the stat sheet.
"His defensive line also does a great job of commanding double teams, which allows him to run free quite a bit."
Jaden Shannon finished with 4 1/2 tackles and two tackles for loss, Adam Mattes had four tackles and Ashton Hartgers collected 3 1/2 tackles.
Alex Thomason and Nathan Milburn each had three tackles and Braydon Chance, Garrett Beerends and Blake Schilling all finished with 2 1/2 tackles. Moko and Nate Lampe each snagged an interception.
Offensively, Turner Williams led the receivers with 69 yards on three catches, Bauer's only catch was a 49-yard TD and Reese Hammons grabbed one catch for 11 yards.
West and Tayvin Galanakis each had one catch for eight yards.
Caleb Lawson was 1-for-1 through the air for eight yards, his only punt went for 43 yards and he was 6-of-6 on his PATs.