BAXTER — Almost every time Jake Travis touched the football Friday night, he scored a touchdown.
The Baxter junior had perhaps the best offensive game of his career against Woodward Academy and the performance helped the Bolts improve to 3-0 on the season.
It's the first time Baxter has been 3-0 since dropping to 8-man. And the Bolts have outscored their opponents 188-42.
"It was just random I think. Some of the plays were just executed really well," Travis said about scoring four touchdowns on five touches. "Once I got one touchdown, I think it was let's just get him the ball again.
"The plays that I was able to score on were targeted for me so once I know my name is being called, I knew I didn't want to mess those plays up."
Woodward Academy scored first, but Baxter outscored the Knights 32-0 in the second and 16-0 in the third to win 72-22 in 8-man District 7 play.
After falling behind 6-0, the Bolts scored 64 unanswered points.
The early success to the season is great, but Baxter head coach Rob Luther is focusing on one game at a time.
"We are just trying to get better. We played teams that maybe haven't had a ton of success, but I think we have done it the right way for the most part," Luther said. "It was a little sloppy early tonight. We were frustrated about the start. But once we get going, we have a lot of dudes who can make some plays."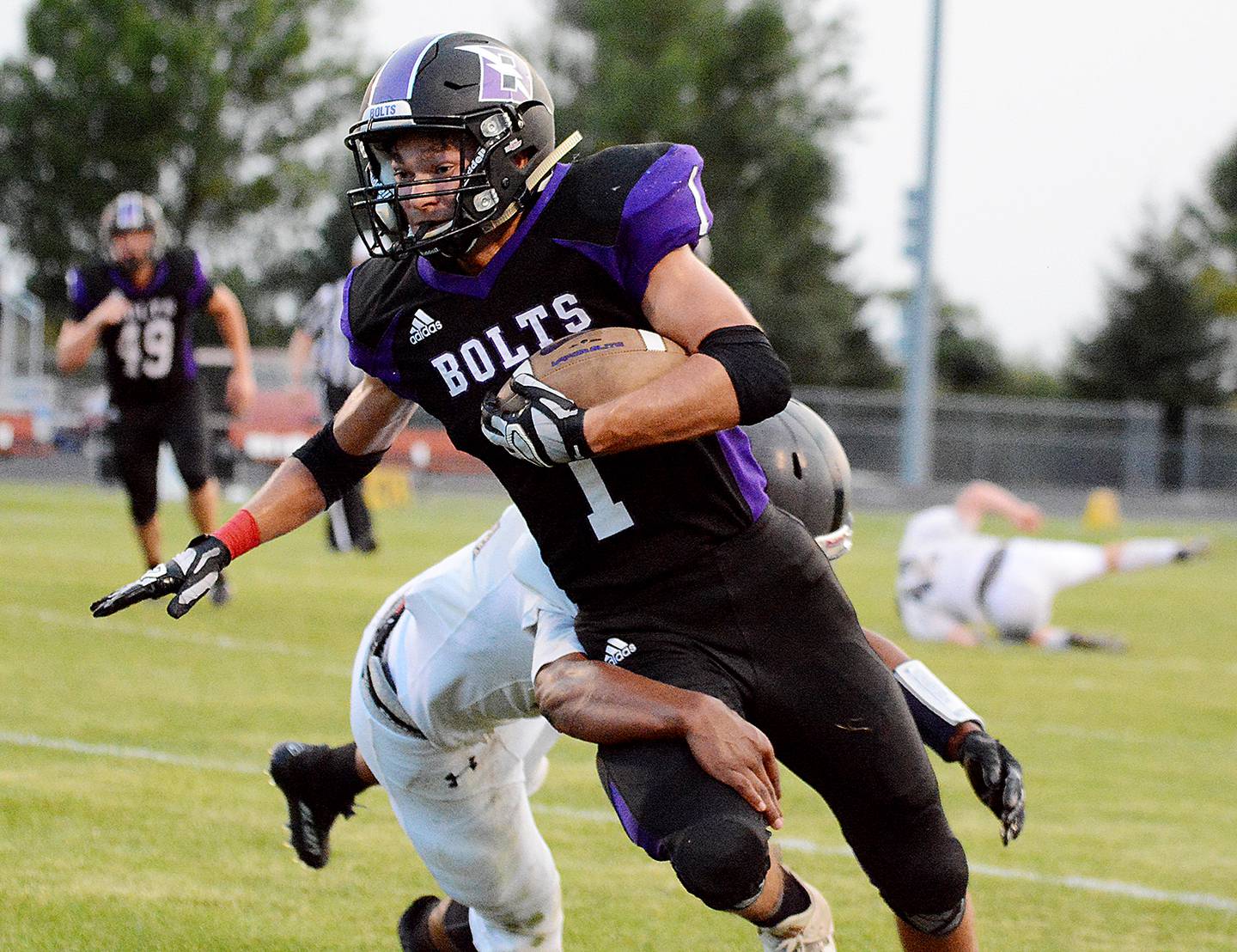 Woodward Academy (0-3 overall, 0-2 in the district) returned the opening kickoff for a touchdown, but it was called back due to a penalty. The Knights eventually scored on a 49-yard pass play to go up 6-0.
The Bolts answered with an 11-play, 45-yard drive that was capped off by a Cody Damman 3-yard touchdown run.
Baxter led 16-6 after one quarter following Travis' first TD of the game. He scored on a reverse from 9 yards out with 56 seconds left in the period.
Travis scored on a 40-yard run on the team's next drive. That was the only play of the possession and it put the Bolts in front 24-6.
"He had some juice tonight so we wanted to get him some touches," Luther said about Travis. "He's just one more weapon. We know what Damman and Rory (Heer) have done and can do because they have done it for a few years. Jake has played good defense for us but hasn't had the ball on offense until this year. He has the best hands on our team. He's a weapon in the passing game, but he ran the ball well, too."
Travis added two more TDs in the second period. Damman scored on a 7-yard run and then threw a 31-yard TD pass to Travis, who capped his scoring night with a 27-yard touchdown run with 4:18 to go in the half.
Travis finished with 76 rushing yards and three TDs on three carries and had 42 receiving yards and one score on two catches.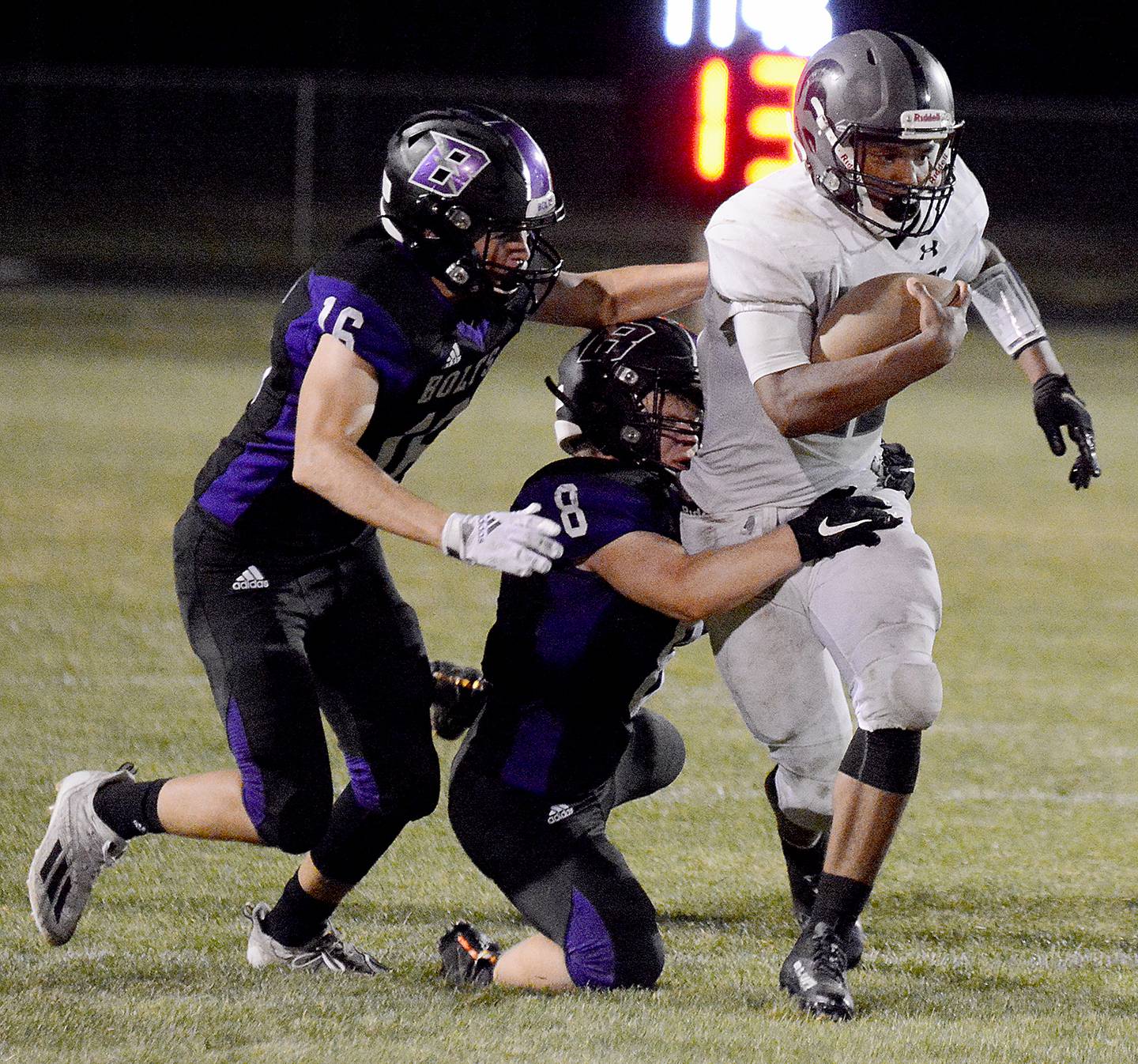 The Bolts finished with 250 rushing yards. The entire second half was played with a continuous clock.
"I thought Woodward did a good job early. We moved it and didn't punt much, but they made us work on a few drives," Luther said. "We didn't have a great week of preparation, and I think it showed. But we go one week at a time and now we'll get ready for the next one."
Rory Heer joined the scoring barrage in the second half when he returned the second-half kickoff 60 yards for a TD. He then added a 1-yard touchdown run on the team's first drive of the second half.
Heer finished with 35 rushing yards on 10 carries and had one catch for six yards.
Baxter's lone TD of the fourth quarter came from Nick Nelson, who scored from 14 yards out with 5:38 to play in the game. He finished with 46 yards on seven carries.
"I loved that," Luther said. "Our seniors have put in a lot of effort, so it's nice to be able to reward them once in a while."
Nate McMinamen plays on the offensive line and is a starting linebacker for the Bolts (3-0, 1-0). He caught a 23-yard pass in the game and finished with four tackles.
But McMinamen may not have been happier than when Nelson found the end zone.
"It's so fun to be out there blocking for the guys. I enjoy pancaking dudes," McMinamen said. "It was great to get Nelly in the end zone, too."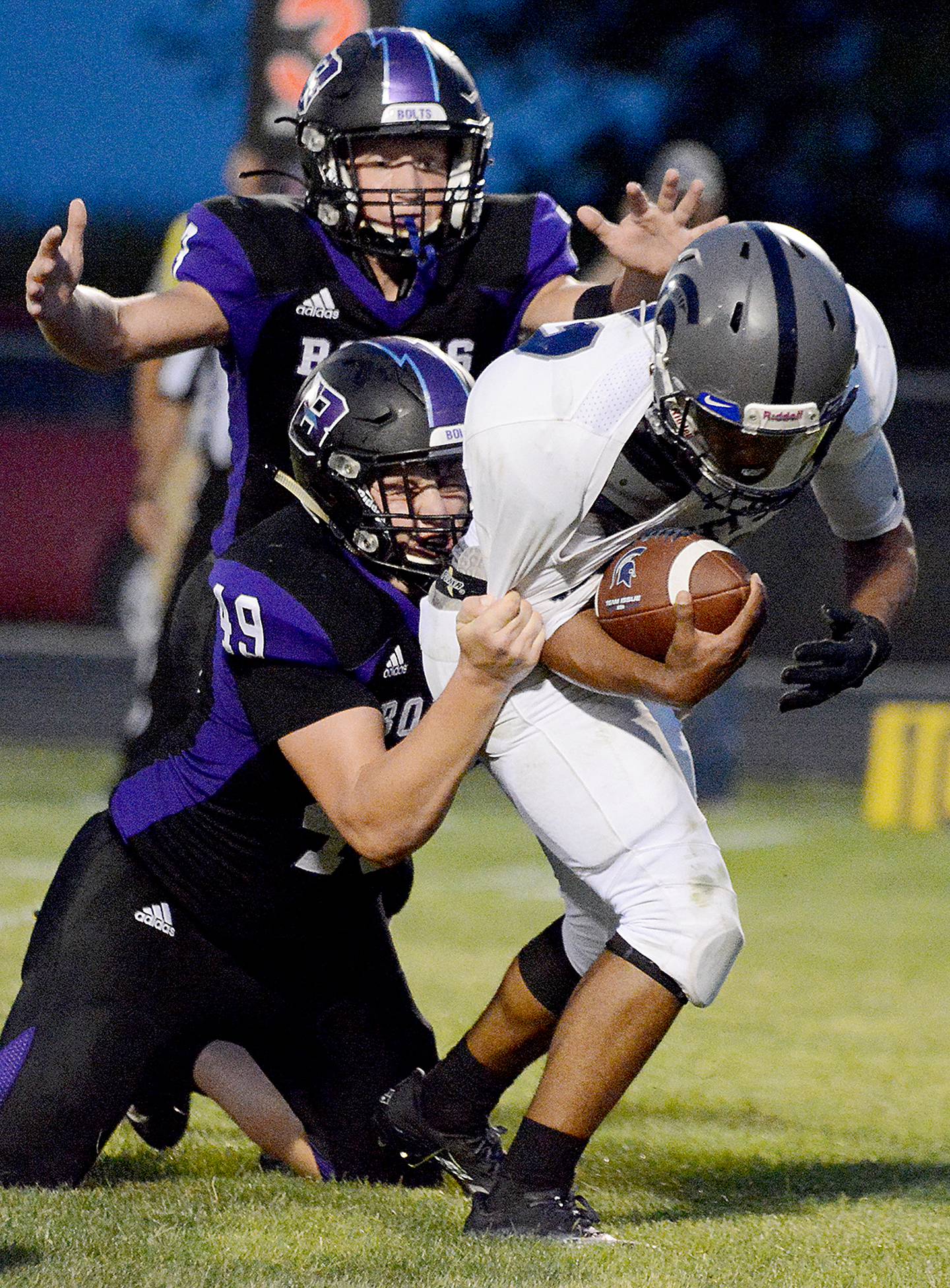 The Bolts have averaged nearly 63 points per game in the first three weeks. But the reason they are 3-0 comes down to the defense being able to get consistent stops. Baxter is only allowing 14 points per contest.
"We talked about defense this offseason a lot. We wanted to have the best defense in Bolts history," McMinamen said. "We are better tacklers, the guys want to hit more and we are just aggressive overall."
Luther is known for his wide-open offensive schemes but knows a strong defense can take his program to the next level.
"We knew we could score points, but we wanted to take the next step. How good we can be, I don't know yet, but we knew we had to get some stops on defense," Luther said. "Not just one a game either. We have to be able to get people off the field. It's a mentality, but we also have guys who have been playing since they were freshmen. We had a great offseason of dudes who were committed to be faster and stronger.
"We have dudes who want to get to the football. We tell them to be sharks and they certainly want to eat. This is the first group we've had that may like playing defense more than offense."
Damman finished 7-of-10 through the air for 112 yards and a TD. He rushed for 68 yards and two scores on nine carries. Cade Robinson gained 31 yards on four carries, Cainan Travis gained 16 yards on his only carry of the game and Treyton Travis hauled in a 24-yard pass. Cael Shepley caught two passes for 17 yards.
Defensively, Devan Fredregill led the way with 4 1/2 tackles and two tackles for loss. Damman collected 5 1/2 tackles, Grant Borts contributed 3 1/2 tackles and Jake Travis recorded three tackles.
"The guys are just doing their jobs. If we all do our part, it usually means good things," Jake Travis said about the defense. "It's a big change from last year."
Notes: Woodward Academy was plagued by penalties all night. The Knights committed 17 penalties for 103 yards. … Treyton Travis had three two-point conversions and Jake Travis and Heer added a pair of two-point scores. … Baxter is at home for three more games this fall. The Bolts' first road game of the season is at Grand View Christian (1-2, 1-1) on Friday.