Newton sophomore Audrey Rausch has a last name that probably comes with a little bit of pressure when you play forward for the Newton girls soccer team.
Ryanne Rausch, Audrey's older sister, scored more than 100 goals in her Cardinal career.
The younger Rausch showed what she is capable of against Pella Christian on Tuesday night during Newton's 5-1 win over the Eagles at H.A. Lynn Stadium.
Rausch put four shots past Eagle keeper Lydia Zylstra and her career-best four-goal match pushes her debut season total to 12.
"It felt great after not scoring on Saturday," Rausch said. "We had a lot more fun today."
The Cardinals played their best match of the season overall, leading 2-0 at halftime and peppering Zylstra with 16 shots on goal. Newton held a 33-9 advantage in total shots and played most of the match in its offensive third.
"It finally connected. This was our best game of the year so far," Newton girls soccer coach Abby Lamont said. "We have been working a ton on our passing, first touches and our transition. It all fell into place. We just have to keep progressing from here."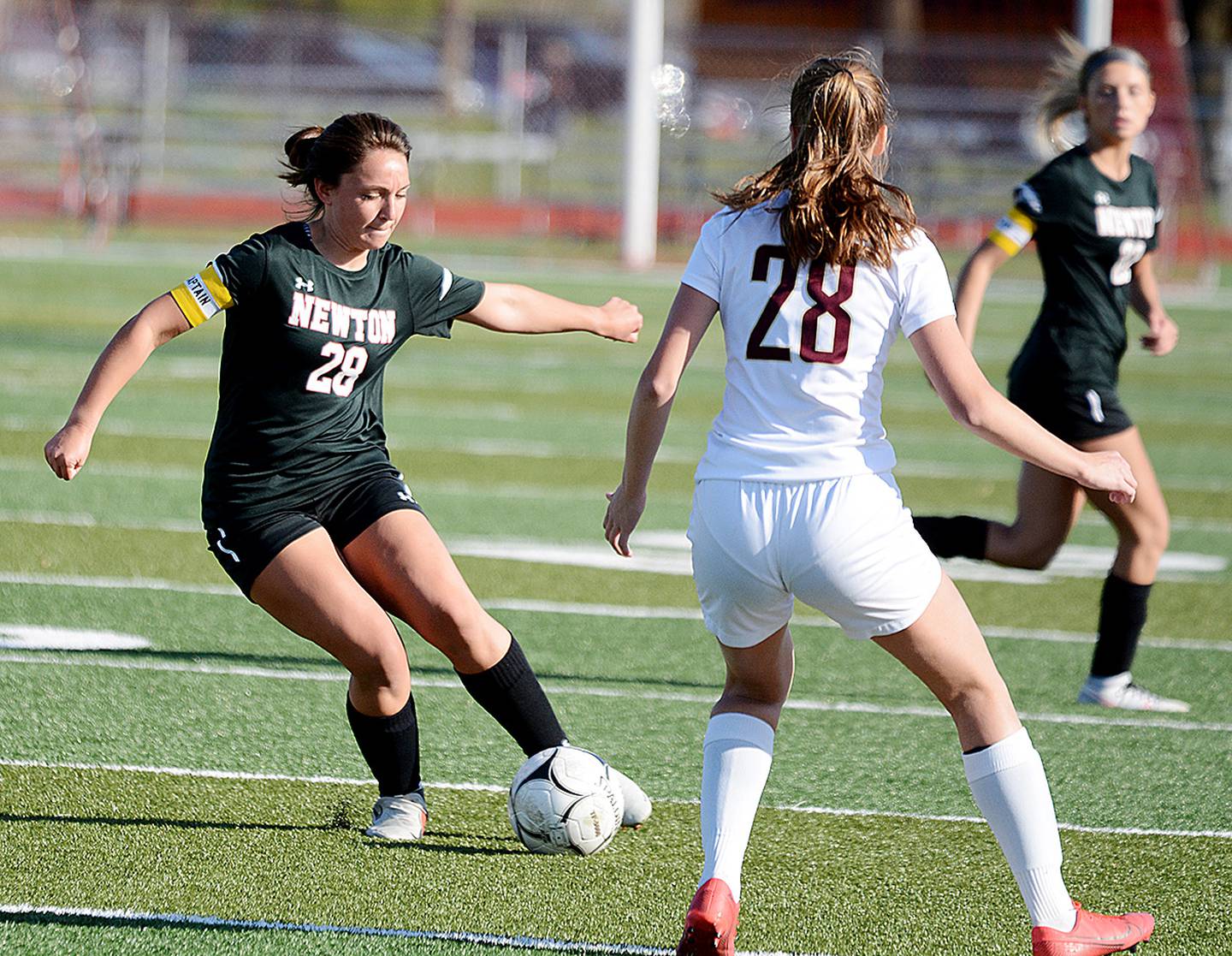 The Cardinals (6-6 overall, 2-2 in the conference) cracked the scoreboard early in the 32nd minute as Rausch beat Zylstra to put her squad up 1-0. She added another goal in the 38th minute to extend the lead to 2-0.
The sophomore wasn't done though. She completed the hat trick midway through the second half as she converted her third goal of the game off a deflection from a shot by Brynn Cazett.
"She had some pretty good passes, which helps me a lot," Rausch said about Cazett. "I have been playing with her for a long time. She's a great teammate."
Rausch's fourth goal of the match and 12th goal of the season came in the 67th minute.
Cazett also set up Newton's final goal of the match as Emma Lopez-Garcia scored the first goal of her career off the deflection from Cazett's initial shot attempt.
Cazett weaved by and through the Eagle defense all night, setting up her teammates with impressive slot passes to the middle of the field or applying pressure to Zylstra with her own shot attempts.
"She has a touch on the ball that not many players have," Lamont said about Cazett. "She can move around two or three defenders and then slot the ball in to whoever is there. She works really hard at that and makes her teammates look really good."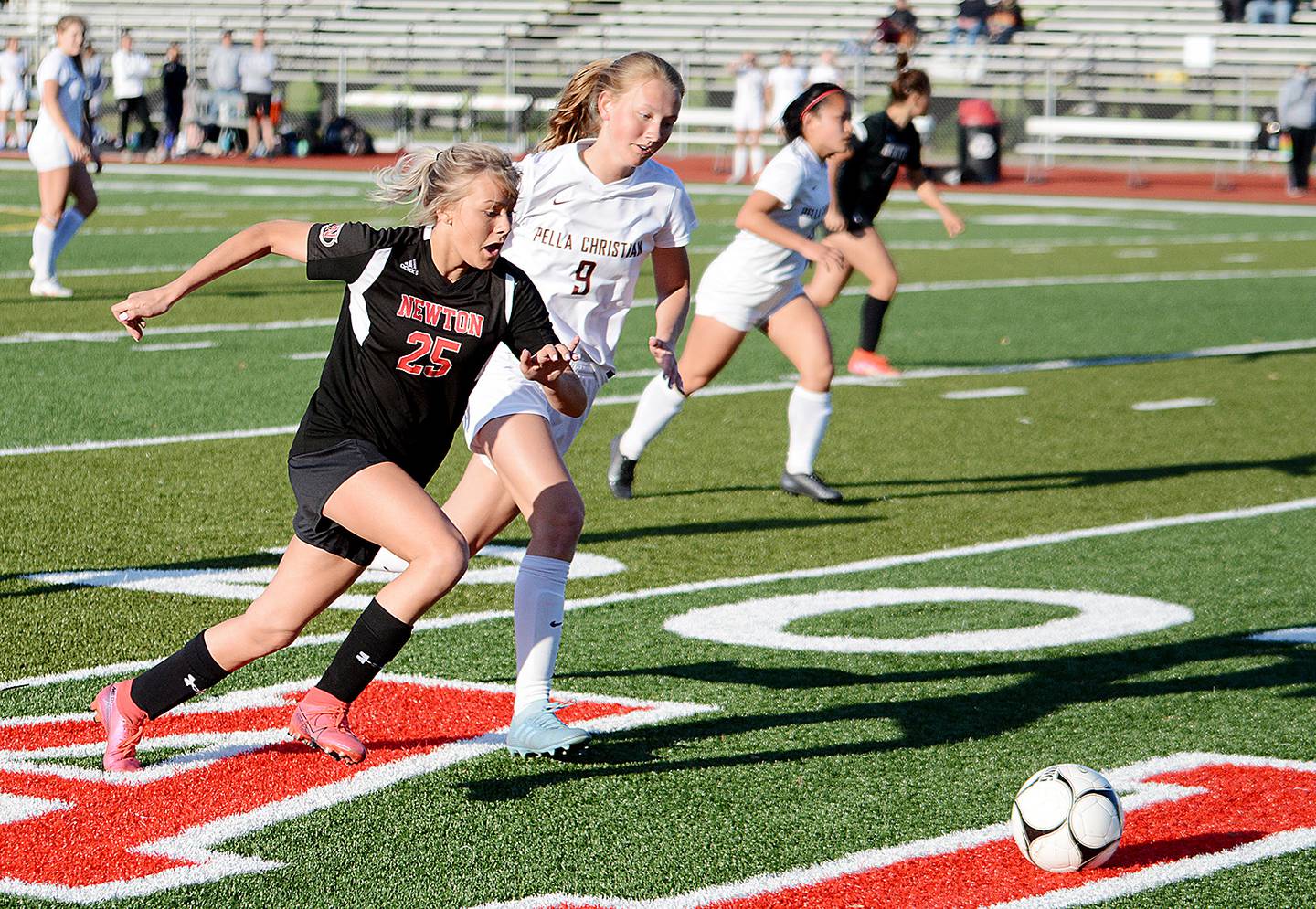 Rausch said she kind of felt bad about scoring all the goals on Tuesday. Cazett played the distributor role against the Eagles (4-5, 0-4) but came into the game with five goals herself.
"I heard her say she was trying to get Audrey to 12 goals so Brynn was looking to set her up all night," senior defender Nykole Hernandez said. "She was playing selfless and for her team. That was awesome to see.
"It was super fun watching them do their thing up there. Audrey had a hat trick so that's awesome and Brynn had an outstanding game. Her slots in were perfect."
Hernandez was one of a few Cardinals who left the field with a sour taste in her mouth.
Pella Christian's only goal of the game came off a corner kick in the final minute, ruining the Cardinals' shutout attempt.
Junior keeper Aurora Nehring unofficially finished with six saves in the win.
"I was pretty mad that they scored," Hernandez said. "We kicked it out and it went off them and they were able to get a touch on it. It was a perfect shot. We should have kicked it out and not into their players but it happens.
"The defense was pretty good otherwise. We kept the ball out of the defensive third most of the game."
Lamont liked what she saw for the most part but wants her squad to continue to improve on a few things as the season winds down. And Pella Christian scoring that late goal will likely help get the message across to her team.
"You always have to be ready. We have to play all 80 or 100 minutes, whatever it is," Lamont said. "We have to play to the whistle, too. There's still some things to work on and work through but we'll get there."
Notes: Newton is 5-1 this season when its opponents score one goal or less … Sarah Gritters scored Pella Christian's goal in the 90th minute. It was the first goal of her prep career. Zylstra finished with 10 saves in 72 minutes as the Eagles starting keeper. … The Cardinals are 9-1 against Pella Christian since 2011 and they have won three straight. … In those 10 matches since 2011, the Eagles have scored only five goals against Newton. The only Newton loss was a 1-0 defeat in 2017. Six of the wins came by shutout.